Travel information for Malta including COVID-19 information 2023
Last Update: 22 August 2022
Malta has been a member of the EU and in the Schengen area since 2004. Citizens of Schengen Area countries travel to Malta without visas or permits. As of July 25, Malta lifted all COVID-19 entry restrictions. Malta's government significantly reduced numbers of infected individuals with restrictive implementation and a six-week lockdown in 2021. In addition, Malta continues to insist on efficient contact tracing through the
EU dPLF. As of April 2021, Malta is one of the safest countries to travel to in Europe. Entry into Malta is therefore possible. Air traffic to Malta has been reopened since 1.7.2020. We give you the most important travel information and rules for traveling to Malta.
Entry requirements Malta – presentation of the following documents and registrations
For vacation and stay up to 90 days, your identity card, passport, and children's passport are sufficient. Minors are only allowed to enter Malta if accompanied by an adult.
A power of attorney written in English is recommended
for the child, even if the
parent or guardian is traveling alone
. Before entering the country, you need the
European Digital Passenger Locator Form (dPLF).
This form must be presented at Malta Airport. For more up-to-date information, please refer directly to the website of
Air Malta
and the
Maltese Ministry of Health
(
[email protected]
).
What does the consent form for minors contain?
A power of attorney certified by the police or a notary public creates more security. If the names are different, a copy of the child's birth certificate and the identification data page of the legal guardian(s) will help. The power of attorney,
written in English
, should include:
Personal details of the minor
Itinerary
personal data and contact details of the legal guardian(s)
Personal details of any accompanying adult(s)
Signatures of the legal guardians
What kind of temporary identity documents does Malta accept?
You may enter Malta with a temporary identity card and temporary passport. Travel documents may be expired for up to one year. Airlines, as well as hotel or bank, insist on a current passport. This is because the temporary passport does not contain an electronic chip with stored fingerprints and photo.
Which proof of vaccination is required for entry to Malta?
You do not need a vaccination certificate since July 25, 2022.
Is the digital EU Passenger Locator Form (EU dPLF) required?
Passenger Locator Forms (PLFs) are used by health authorities to track contacts.
All inbound travelers to Malta must register
via the
digital EU Passenger Locator Form (EU dPLF)
prior to entry. Group registration or as a family is not possible. Each person will receive their EU dPLF with QR code. At check-in and for entry, show it digitally or the printout. For the entry to Malta, there is no obligation for the dPLF since 22.07.2022.

What is the EU digital COVID-19 certificate?
The EU digital COVID-19 certificate is the proof that
have been vaccinated against COVID-19 and / or
tested negative for Corona and / or
have recovered from Corona,
digital and/or paper format,
with QR code,
free of charge,
in the national language and in English,
reliable,
valid in all EU countries.
All EU citizens and their families and non-EU citizens legally residing in the EU can obtain the COVID-19 digital certificate. The certificate for children is obtained by their parents and can be stored on the parents' mobile app.

World of Malta Insider tip: Change resort or accommodation and opening time
EU dPLFs are only checked daily between 07:00 a.m. and 9:00 p.m.. Enquiries will also only be answered during this time. If your accommodation address changes, update it online. You can read about how the dPLF works on the
EU PLF homepage
in all EU national languages. For technical questions about the platform:
[email protected]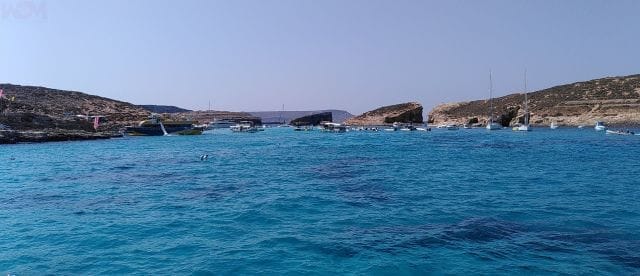 Is a holiday possible in Malta, Comino and Gozo?
Air and sea traffic between Malta and certain corridor countries resumed from 1st July 2020. Since then, travelers and immigrants have been arriving daily at Malta Airport and by ferry at the port of Valletta. Malta is one of the safest countries of entry in Europe, with less than 46 active COVID – infected persons (as of 1st July 2021) on a population of approximately 520,000. Malta achieved this by temporarily restricting entry, through vaccination and rules of conduct. Water sports such as stand-up paddling or diving, hiking and sightseeing are possible without restriction.
Is it compulsory to wear a mask in Malta?
It is compulsory to wear a mouth-nose protection in hospitals, medical, and care facilities. Shops and service establishments decide whether masks are compulsory in their premises. The general distance rules for mutual protection apply. They are indicated by green dots at the cash register, for example. There has never been a mask requirement in private premises.
World of Malta Insider tip: Check the Amber List before travelling to Malta
The
amber list of countries
allowed into Malta is updated every week by the
Superintendence of Public Health
. It is therefore not identical with the lists from other countries or the recommendation of the European Union.
During the summer months, the relevance of the "amber list" is suspended in Malta.
We therefore recommend that you check the
general travel advice
issued by the Maltese government (amber-list) before travelling to Malta. A Corona vaccination does not exempt you from submitting a PCR test. (Last Update: 21st July 2021)
What do you need to know before going to Malta?
Check the entry requirements of the Maltese government
shortly before you leave for Malta. Check your own country's Travel Advice and Advisories. Please bear in mind the
dynamic developments
that can cause changes for entry at short notice. Passengers must fill in a location form in digital format, known as the
Digital Passenger Locator Form (dPLF).
Visitors from the United Kingdom
Before you travel, 
check the 'Entry requirements' section
 for Malta's current entry restrictions and requirements. These may change with little warning. Monitor this advice for the latest updates and stay in contact with your travel provider.
Returning to the UK
Malta is on the 
green list for entering UK
 (13.08.2021). Check what you must do to 
enter England, Scotland, Wales or Northern Ireland
. 
For more information, contact the Superintendent for Public Health by sending an e-mail to 

[email protected]

.
Entry from the countries of the Schengen area
The two countries of the Schengen area Iceland, Norway are equal to the EU countries, as are Switzerland and Liechtenstein.
Entering Malta with a dog or cat
The EU pet passport,
which has been required since 1.10.2004, is necessary. The identification of the animal by microchip or clearly legible tattoo is entered there. All animals from 3.7.2011 onwards must be marked with a microchip. Furthermore, the EU pet passport must include the rabies vaccination (first vaccination at least 21 days before crossing the border) and the treatment against the fox tapeworm (Echinococcus multilocularis) for dogs. Pit bull terriers, Japanese Tosa, Dogo Argentino and Fila Brasileiro are not allowed. To bring your pet for
non-commercial movement,
notify Malta at least 3 working days prior to your entry. To do this, submit the "
Pre-notification form
". Border officials receive travellers at the Traveller's Point of Entry.
Arrival at Malta Airport is as follows
A bus will take you from the aircraft to the terminal.
A thermal imaging camera measures your body temperature.
If you are travelling with more than hand luggage, you collect your extra baggage.
Depending on the number of passengers, up to 25 counters are open at the exit.
There, arriving passengers will have their vaccination certificate and passenger localisation form checked. Unvaccinated persons submit the documents entitling them to enter Malta.
After a positive check of the documents, you can leave Malta International Airport.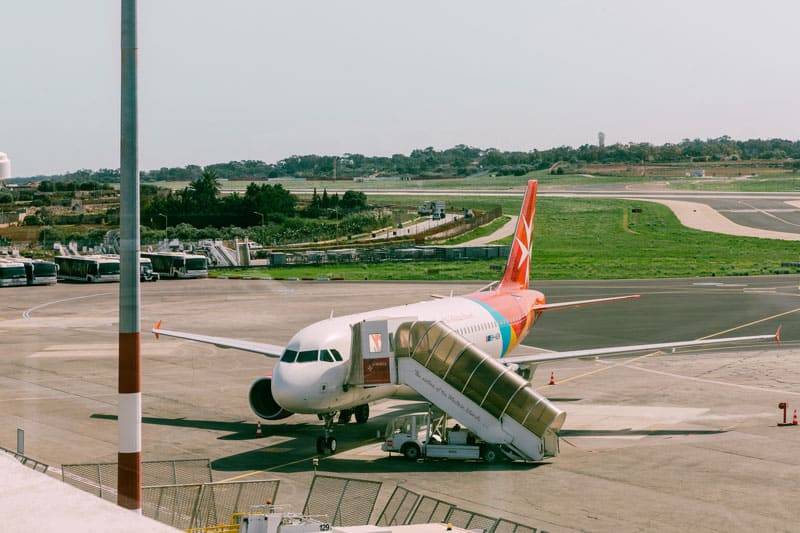 Where can you get tested for Corona in Malta?
At Malta Airport, your temperature is taken (thermal screenings). The body temperature of all arrivals is checked by a thermal imaging camera. If the temperature is 37.2°C or higher, the Malta Health Authority will interview the person on site. If necessary, further tests will be carried out and further steps will be decided on an individual basis.
PCR rapid test at the airport and 10 other test centres
Travellers as well as the Maltese population can make an
appointment for a rapid antigen test
(PCR test) already in the car park of Malta International Airport. Pre-registration is required. This can be done via the
online portal
. Available test appointments are displayed on the website. Proof of the confirmed appointment must be presented at reception. You will receive your test result within 20 to 45 minutes after the test has been performed. The PCR test at the parking deck costs 35 euros.There are 10 other
Corona Test Centres
throughout Malta. They can be found, for example, in the towns of Pembroke, Qormi, Burmarrad, Luga and on the neighbouring island of Gozo in Xewkija. In Malta, free PCR tests are conducted daily, by appointment.You can register online or digitally via the
Mita portal
. For telephone information and to book an appointment, the Malta Health Authority offers two telephone numbers "111" and "00356 2132 4086" in addition to the online portal. You can make enquiries about the procedure in English by
email.
When am I considered fully vaccinated?
You are considered fully vaccinated two weeks after your second dose of mRNA COVID-19 vaccine, two weeks after your second dose of Novavax COVID-19 vaccine, or two weeks after a single dose of Janssen/Johnson & Johnson COVID-19 vaccine. Your immunizations are up-to-date if you have received all recommended COVID-19 vaccines, including booster doses.
What rights apply when data is stored via the Digital Passenger Locator Form?
You have the right to information and access to the Data Protection Officer based on the European General Data Protection Regulation (GDPR). Address:Level 2, Airways House, High Street, Sliema SLM 1549.Phone:23287100, E-mail:
[email protected]
Malta's customs regulations
Like everywhere else in the EU, you are allowed to bring unlimited goods for your own consumption. The EU makes a distinction between private consumption and commercial use:800 cigarettes 400 cigarillos 200 cigars 1 kg of smoking tobacco 10 litres of spirits 20 litres of other alcoholic beverages, up to 22 percent alcohol content 90 litres of wine (of which max. 60 litres of sparkling wine) 110 litres of beer.These quantity limits apply for private purposes. Purchases from duty-free shops are less. For the import of weapons and harpoons, you need the police import permit.
Archive: Malta's Regulations and Decisions until 21.07.2022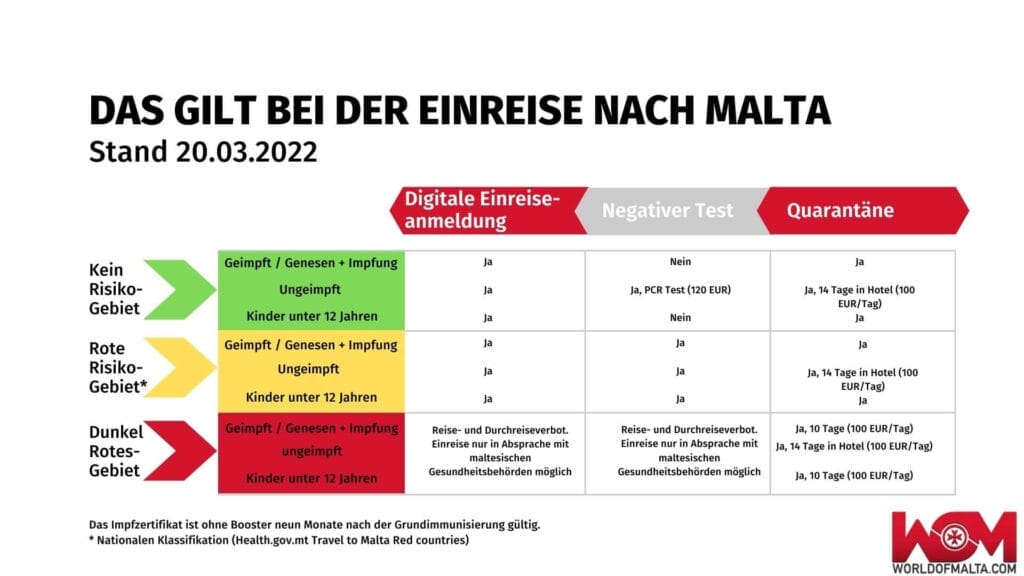 What regulations apply in Malta at least until 11.04.2021?
No organized outdoor sports allowed
Restaurants are closed; hotel services are prohibited; room service and "take-away" or "to go" may be offered
Grocery shops, supermarkets, and pharmacies are open.
Public facilities such as gyms, cinemas, theatres, and museums are closed. Schools and language schools are closed. Some language schools offer online lessons.
Crossings to Gozo prohibited without good reason.
The maximum number of people in public is limited to four people
Weddings and religious ceremonies are prohibited, funerals may take place subject to security protocol.
Mandatory masks alternatively visors in all public areas, beach, shops, public transport as well as in the workplace.
In principle, the health authorities and police impose fines for violations.
Why is Malta considered a high risk area for Germany until 10.4.2021?
In Germany, the classification as a risk area is made after joint analysis and decision by the Federal Ministry of Health (Minister Spahn), the Federal Foreign Office (Minister Maas) and the Federal Ministry of the Interior, for Construction and Home Affairs (Minister Seehofer). It is certainly true that "thoroughness goes before speed". Or else, a lot of water will flow down the Rhine until the 3 come to an agreement. For some time now, some European countries have had the impression that Germany believes in a myth, that the whole world looks enviously at the German government's successful Corona measures.The reality, however, is that in about 1/3 of the EU countries like Italy (e.g. Sicily), Portugal (e.g. Lisbon), Finland, Ireland (South-West), Great Britain (e.g. areas of Scotland), Denmark and Norway were considered safe travel areas partly months ago. In addition to the downward trend in new cases, the 7-day incidence according to Johns Hopkins University or the readings published by the EU was already between 40 and 80. As of 11.4.2021, the German government has now raised Malta to the same level as Germany. From the German government's point of view, Malta is "only" considered a risk country. A travel warning applies for Malta.
Due to the travel warning for Malta, the return journey becomes difficult
The Coronavirus Entry Ordinance of 12 May 2021 applies to entries from risk areas back. Those entering a lot of countries have a general obligation to provide proof. This includes abbreviated:Prior to departure, the person to be transported must
a negative PCR test result
or a 14-day-old vaccination certificate for the 2nd vaccination
or proof of recovery
must be presented. In addition, when entering the Federal Republic of Germany after a stay in a foreign risk area (simple risk area, high incidence area or virus variant area), special proof obligations and a quarantine obligation must be observed. A ban on public transport such as buses and trains may apply.
This is Malta's plan for reopening in 2021
On 07.04.2021, Malta's Prime Minister Abele announced the reopening plan. Malta's reopening is based on key metrics:
lower and decreasing number of viral cases
decreasing hospital admissions
rising vaccination rates.
Active Corona-19 cases were down to 261 on 02.05.2021. By 01.07.2021, cases had dropped to 46. Based on a total population of about 500,000, this resulted in a 7-day incidence of less than 5.0, making Malta one of the 3 safest countries to travel to in the EU, despite any travel warnings in place. The EU no longer classifies Malta as a risk area since 6.5.2021.However, the massive increase in the number of corona cases in January 2022 led to Malta being placed on the Red List at short notice, according to information from other European countries. In 2022, an infection figure of 800 to 1,400 infected people are commonplace in Malta. However, it is enough to remain on the green list of countries and territories. Due to the small population, an increase in tourists infected with Corona immediately has a strong impact on the 7-day incidence. Malta receives up to 4 million tourists a year.