Travel information for Malta on the occasion of COVID-19
Malta's government has significantly reduced the number of infected people with restrictive implementation and a six-week lockdown in 2021. Since April 2021, Malta is one of the 3 safest countries to travel in Europe. Entry to Malta is therefore possible. Air traffic to Malta is open. We give you the most important rules for travel to Malta.
Entry requirements from non-risk areas
All entrants register via the digital EU Passenger Locator Form (EU dPLF) prior to entry. Malta requires full vaccination for ages 12 and older. EMA approved vaccines BionTec / Pfizer, Moderna, AstraZeneca, Novavax or Johnson & Johnson are recognized. The last vaccination dose is at least 14 days prior to entry. The vaccination certificate is valid for nine months after the basic immunization. You provide the proof:
EU digital COVID-19 certificate with QR code
Paper printout and the proof on the cell phone
Important: The yellow vaccination certificate of the WHO and other proofs are not accepted by Malta.
Entry from red and dark red countries
Malta distinguishes risk countries into red and dark red countries. For the latter, a blanket travel and transit ban applies. The entry can only be applied for at the Maltese government. After entry, a quarantine period of 14 days generally follows, and 10 days for vaccinated persons from red countries. Travellers without a complete vaccination are generally quarantined for 14 days. Quarantine in Malta means a hotel room with breakfast and a flat rate of 100 euros per day. Breakfast is brought to the room. For the unvaccinated and travellers from the red and dark red countries, molecular (PCR) testing is done by the health authorities for 120 euros. Children in quarantine are accompanied by a parent or legal guardian.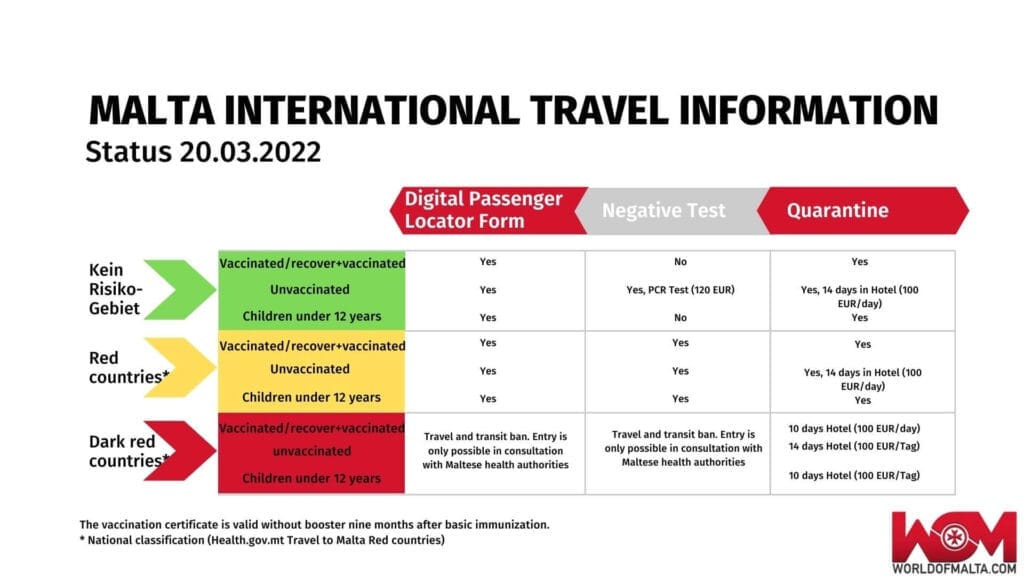 Is a holiday possible in Malta and Gozo?
Air and sea traffic between Malta and the so-called "corridor countries" was already resumed from July 1, 2020. Since then, thousands of travellers and immigrants arrive daily at Malta Airport and by ferry at the port of Valletta. As a country of entry, Malta was one of the safe countries of entry in Europe with 737 active Corona-19 infected persons (as of 01.03.2022) on a population of about 500,000. Malta also achieved this through entry restrictions.
For persons with ID Card Malta or Residence Document applies differently, in most cases a quarantine at home.
Current Covid-19 figures of Malta from Johns Hopkins University
Entry to Malta is only recommended with vaccination
From 14.07.2021 onwards, entry into Malta from countries on the amber list will be required to provide proof that they have been vaccinated against COVID. Children under 12 years of age accompanied by their parents need a negative PCR test. It must not be older than 72 hours. Children under 5 years of age may travel without a PCR test and vaccination.
Travelling to Malta without a vaccination certificate or a valid PCR test for children aged 5 to 12 is then possible with a special permit from the Malta Superintendence of Puplic Health.
The exceptions usually concern persons
Residents of Malta
Pregnant women
who cannot be vaccinated for health reasons.
(Status 22.07.2021)
World of Malta Insider tip to amber list:
The
amber list of countries
allowed into Malta is updated every week by the
Superintendence of Public Health
. It is therefore not identical with the lists from other countries or the recommendation of the European Union. We therefore recommend that you check the
general travel advice
issued by the Maltese government (amber-list) before travelling to Malta. A Corona vaccination does not exempt you from submitting a PCR test. (Last Update: 21st July 2021)
What do you need to know before going to Malta?
Check the entry requirements of the Maltese government shortly before you leave for Malta. Check your own country's Travel Advice and Advisories. Please bear in mind the dynamic developments that can cause changes for entry at short notice. Passengers must fill in a location form in digital format, known as the Digital Passenger Locator Form (dPLF).
Visitors from the United Kingdom
Before you travel, check the 'Entry requirements' section for Malta's current entry restrictions and requirements. These may change with little warning. Monitor this advice for the latest updates and stay in contact with your travel provider.
Returning to the UK
Malta is on the green list for entering UK (13.08.2021). Check what you must do to enter England, Scotland, Wales or Northern Ireland. For more information, contact the Superintendent for Public Health by sending an e-mail to [email protected].
Important Information for Passengers Arriving in Malta
Travel to Malta with just a negative PCR test result is no longer allowed. Guests 12 years and older can travel to Malta only if they have a vaccination certificate. The vaccination certificate, confirming that the full dose of a vaccine approved by the European Medicines Agency (EMA) has been vaccinated. The administration of the last dose of the vaccine must be at least 14 days ago. The following documents and registrations are required at Malta Airport:
For more up-to-date information, please visit the Air Malta website directly.
The following certificates are not valid for travel to Malta:
Certificate of recovery from Covid-19;
Vaccine appointment card;
Vaccine certificates for only 1 dose of a vaccine requiring 2 doses, also for people who recovered from Covid-19;
Vaccine certificates with less than 14 days from the final dose;
Certificates for vaccines which are not approved by the European Medicines Agency.
The Departures – Forms & Declarations for many countries e.g. as Belgium, Bulgaria, France, Greece, Italy, or Spain can be found on this particular COVID-19 page of the Malta Airport.
Contact details Health:
Email: [email protected]
Telephone: +356 2132408
The procedure arrival Malta International Airport
After leaving the plane, you get on a bus which takes you to the Terminal entrance
You will be subjected to body temperature screening
If you are travelling with more than carry-on luggage, collect your additional luggage.
There are up to 25 counters open at the exit, depending on the number of passengers. There, arriving passengers will have their vaccination certificate and localization form checked. Unvaccinated people submit the documents that entitle them to enter Malta.
After positive control of the documents, you can leave the Malta International Airport.
People who need to be quarantined will be driven in separate vehicles to the current 4-star hotels. The accommodation price to be paid by you is 100 EUR per night, including breakfast.
Check fares 1,200 travel companies ✅ Free price reporting ✅ Travel, hotel, and car hire ✅ 7 days week support ✅ 30 languages ✅
The contact details information from Malta International Airport
Address: Luqa, LQA 4000, Malta
Telephone: +356 2124 9600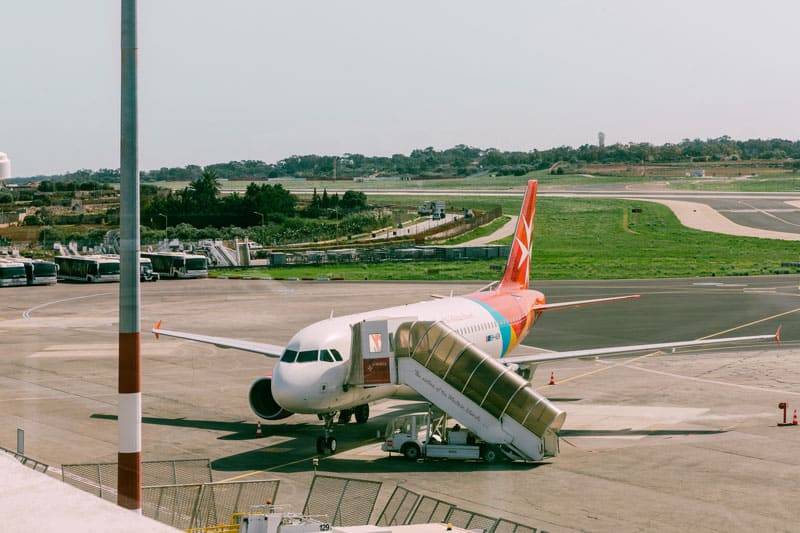 Where can you get tested for COVID-19 in Malta?
Thermal screenings are carried out at Malta Airport. The body temperature of all arrivals is checked with body temperature screening. If the temperature exceeds 37.2°C, the Maltese health authorities will interview the person on-site and decide on further steps. If necessary, further tests will be carried out.
There are 11 COVID-19 Test locations throughout Malta. They can be found, for example, in the towns of Pembroke, Luqa, Qormi, Burmarrad and on the neighbouring island of Gozo in Xewkija. In Malta, free PCR tests are conducted daily, by appointment.
You can register online or digitally via the Mita portal. For telephone information and to book an appointment, the Malta Health Authority offers two telephone numbers "111" and "00356 2132tel 4086" in addition to the online portal. Enquiries about the process can be made in English by email.
Do masks have to be worn in Malta?
Masks are compulsory in rooms and buildings open to the public and at large events. In private rooms, there is no mask obligation. If you have a medical certificate exempting you from wearing a mask, please contact the Maltese Health Authority before you travel. According to our information, you need a confirmation from the Maltese Health Authority for the exemption from the mask requirement.
Check fares 1,200 travel companies ✅ Free price reporting ✅ Travel, hotel, and car hire ✅ 7 days week support ✅ 30 languages ✅
Archive 2021:
What regulations apply in Malta at least until 11.04.2021?
No organized outdoor sports allowed
Restaurants are closed; hotel services are prohibited; room service and "take away" may be offered
Grocery shops, supermarkets, and pharmacies are open.
Public facilities such as gyms, cinemas, theatres, and museums are closed.
Schools and language schools are closed. Some language schools offer online lessons.
Crossings to Gozo prohibited without good reason.
The maximum number of people in public is limited to four people
Weddings and religious ceremonies are prohibited, funerals may take place subject to security protocol.
Mandatory masks alternatively face visor in all public areas, beach, shops, public transport as well as in the workplace
In principle, the health authorities and police impose fines for violations.
Malta's reopening plan 2021
On 7th April 2021, Malta's Prime Minister Abele announced the plan to reopen Malta. It was based on key performance indicators
including a lower and decreasing number of viral cases
decreasing hospitalization rates
and increasing vaccination rates.
Active Corona cases were only 261 as of 2nd May 2021. Based on a total population of approx. 500,000, the 7-day incidence was less than 5.0. Thus, Malta was one of the 3 safest countries to travel to in the EU, despite any travel warnings that may have been in place. The EU Malta no longer classifies Malta as a risk area since 6.5.2021. However, the massive increase in COVID-19 cases after between 5.07.2021 and 20.7.2021 have led to Malta being placed on the red list at short notice, according to information from a few countries. Due to the small population, an increase in the number of tourists infected with Corona immediately has a strong impact on the 7-day incidence.