Dream Wedding for Immigrants & Foreigners in Malta – Few Requirements, Quickly Possible.
Marriage and marriages in Malta are regulated by the
Marriage Act of 1975 (as of 11.2021)
. Marriage in Malta is legally binding for countries in the EU and many countries in the world. You choose a church or civil marriage ceremony. In the case of a church wedding, a registrar is present in addition to the priest. This documents the marriage. Table of Contents.
Emigrants and foreigners marry on Malta – short answer for quick readers
An international marriage in Malta is possible for emigrants and foreigners.
The marriage ceremony is certified by a registrar. It may take place outside the registry office at any location in Malta.
Malta offers the marriage of same-sex partnerships.
Marriage in Malta is recognized by many countries.
The documents are mutually recognized by the signatories of the Hague Apostille without certification.
Why do foreigners marry in Malta?
Malta is wonderful, almost to reach, modern and digital oriented authorities. Blockchain is not a buzzword in Malta, it is a lived reality. You apply for the wedding digitally. There are all kinds of reasons to celebrate one of the most beautiful and happiest days of your life in Malta. Highlights mentioned to us were:
Marriage at up to 7,000-year-old historical sites and enchanting natural landscapes.
Vacation atmosphere and ten months of temperatures above 20 degrees Celsius.
Special locations like beach, temples, museum-ship, underwater and on charming cliffs.
For religious weddings around 365 mainly baroque churches.
Recognized, uncomplicated and fast procedure with little bureaucracy.
Official language English and therefore in many countries of the world no certified translation of the marriage certificate is required.
No minimum residence
Same-sex marriages legal
International wedding in Malta – These are the requirements
A marriage is recognized in your home country if
You meet the requirements for marriage under the laws of your home country.
You are at least 16 years old and a wedding can take place in your home country with the permission of your parents.
Unless marriage takes place in a registry office or church, the place of marriage must be open to the public. Ultimately, the registrar decides on suitability.
Separated citizens cannot marry before a divorce or annulment of marriage.
Is a residence permit required to get married in Malta?
No, you do not have to live in Malta to marry here. Also, you do not automatically obtain a residence permit by getting married in Malta.
Who is responsible for the marriage ceremony in Malta?
The Maltese Registry Office handles all church and civil marriages in Malta and Gozo.
What are the requirements and obstacles?
An indispensable requirement is the necessary prerequisite in your home country for the marriage ceremony. As an example, we list some forms that are requested depending on the country:
Certificate of freedom of movement (with apostille)
Certificate of matrimonial maturity
Marriage register forms
Permission to marry from own government
Certificate of marriageability
Status certificate
No objection certificate
Residence certificate
Certificate of Celibacy
Consent father
You will submit this information to the registrar's office with your application for marriage:
Church marriage
Has there been a previous marriage and are there any children from the relationship?
Have you lived abroad for any time?
The church where the marriage is to take place.
The date of the marriage and start/time.
The first and last name of the priest.
The last name(s) of the couple after the marriage and the family name that will be adopted.
Marriage ceremony in the registry office or other place about:
Has there been a previous marriage and are there any children from the relationship?
Have you lived abroad for some time?
The place of the marriage ceremony and start/time.
The date of the marriage.
When you will have the officiant picked up by cab.
The last name(s) of the couple after the marriage and the family name that will be adopted
World of Malta Insider Tip: You are not Catholic and want to get married in church?The Marriage Act empowers the Ministry to recognize marriages of other churches and religions besides the Catholic religion. If a religion or church is recognized by the Ministry, you may marry according to the rites of that religion in Malta. For wedding decorated white vintage car cabriolet in front of the church.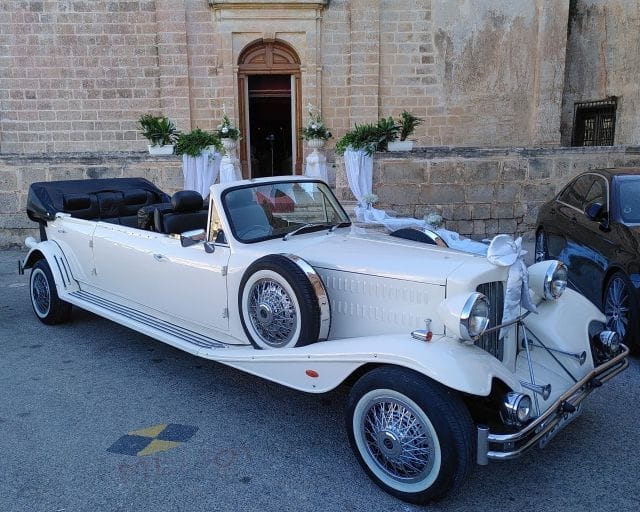 Which places are suitable for getting married in Malta?
The first decision is:
Gozo
Comino
Malta
 one of the uninhabited island like St. Pauls Island in Mellieha..
For Gozo and Comino you need to contact the Gozo Registry Office, you will find at least 99 charming and romantic locations in Malta, as well as approximately 365 churches for your wedding ceremony. You can find more inspiration for your wedding ceremony on our page with the
77 most unusual and beautiful cities and sights in Malta.
The location of the wedding ceremony must be open to the public
and the registrar deems it suitable. Probably, a wedding on a Maltese wooden boat Luzzi (Dgħajsa) will not be approved. Permission will also be difficult for swimming pools, casinos or public beaches with bathers. However, there are sections of beaches that are closed for weddings. There are wedding halls and hotels, public gardens, rustic farmhouses, castles and baroque palaces. The Maltese government offers historic and listed buildings such as the Mediterranean Conference Centre or Saint James Cavalier.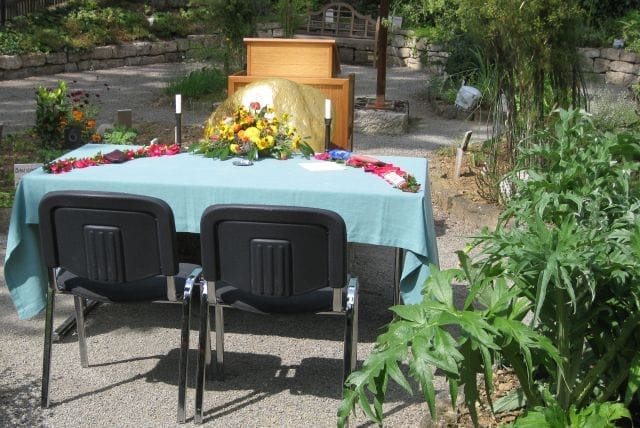 Get married in a baroque garden
Buskett Gardens in Rabat
Lower Barrakka Gardens at the charming Sigie Bell Chapel in Valletta
San Anton Gardens in Attard (Three Villages) at San Antonio Palace
Marriage on a ship
The captain of a
Maltese flagged cruiser
may perform your wedding ceremony.
Getting married at Malta's cliffs or a lighthouse
Mgarr ix-Xini Bay on Gozo – Spectacular setting for the movie "By the Sea" starring Angelina Jolie and Brad Pitt.
Dingli Cliffs – The highest point of Malta at breathtaking 253 meters high cliffs.
On Gozo between Fungus Rock and San Lawrenz Dwejra Clifs
Sea cliffs on one of the two uninhabited islands
St Paul's Island
Cominotto
World of Malta insider tip: This is what the location of your civil wedding should offer
Written permission from the owner
Pedestal with access via laminated path, concrete, or flagstone walkway
A table for the best man and for signing the marriage contract
Five chairs for the registrar, the couple and the two witnesses to the marriage
Set up as if in the style of a classroom
Appropriate lighting conditions
Protect witness from glare from the sun
Separated from the public, with screen, plants, fence or partition, about 180 cm high
At least 20 meters away from the public, sign of the wedding ceremony
Well-kept and reflecting the dignity of the occasion
If not in a room or house, canopy or umbrella for registrars
Where to apply for the banns for marriage and date marriage?
Basically, on at the marriage registry in Malta or Gozo. If you are planning a religious or church wedding, inform the diocese in Floriana additionally. The registrar is present at a church wedding for notarization.
The application with all required documents should be submitted 3 months before the desired date of the wedding. Last deadline is 6 weeks before the wedding at the latest.
You do not live in Malta?
Then make an appointment at the competent registry office at least two days before the wedding to present your valid identification documents. You cannot delegate this appointment to a third party with power of attorney.

The important addresses for the registration of a marriage banns
Public Registry offices Marsa

Onda Building
Aldo Moro Road, Marsa MRS 9065
Phone: +356 2590 4240
E-Mail: [email protected]
Public Registry – Identity Malta
Opening hours:
Monday: 07:30 – 2:00 pm
Tuesday: 07:30 – 2:00 pm
Wednesday: 07:30 – 2:00 pm and 3:00 – 6:00 pm
Thursday: 07:30 – 2:00 pm
Friday: 07:30 – 2:00 pm
Saturday: 07:30 – 2:00 pm
Gozo Public Registry offices, Victoria

By the Bastion Road, Victoria VCT 1335
Phone: +356 2215 6383.
E-Mail: [email protected]
Opening hours: 1. October bis 15. June:
Monday: 08:00 – 2:00 pm (payment transactions until 1:00 pm).
Tuesday: 08:00 – 2:00 pm (payment transactions until 1:00 pm).
Wednesday: 08:00 – 2:00 pm (payment transactions until 1:00 pm).
Thursday: 08:00 – 2:00 pm (payment transactions until 1:00 pm).
Friday: 08:00 – 2:00 pm (payment transactions until 1:00 pm).
Different opening hours from 16 June to 30 September
Monday: 07:30 – 12:00 pm
Tuesday: 07:30 – 12:00 pm
Wednesday: 07:30 – 12:00 pm
Thursday: 07:30 – 12:00 pm
Friday: 07:30 – 12:00 pm
Diocese of Malta
Public relations office
Diocesan Curia
5, Trig L-Iljun, Floriana
Phone +356 2124 1281
E-mail: [email protected]
What is the family name after marriage?
Since September 1, 2017, in Malta, they have the following choices for choosing a family name:
the surnames of both parties
freely chosen order, but not more than 4 surnames, each keeps his name,
every choice of a family name
The surname of the children is the family name. However, you need to clarify if the name choice chosen in Malta is allowed in your home country.
What documents do you need for a wedding in Malta?
You submit all documents in English or Maltese. For original documents in other languages, please have a certified copy made. You will need the original of some documents at the wedding ceremony. Please send the following documents to the registry office:
Certified copies of identity cards or passports.
Certified or international birth certificates or certificate of descent with parents' details
Certificate of singleness or international certificate of marriageability (usual international form, not older than six months)
Form RZ1 signed and notarized
Form RZ2 signed and notarized
Registration form for marriage signed
Affidavit of marital status certified by a Maltese notary public
If available or relevant:
Divorce decree(s)
Certified marriage certificate of previous marriage with note of annulment
Marriage certificate and marriage certificates of previous marriages
Widow's certificate or death certificate of previous spouses
Letter of intent or proof of name change in case of previous marriage
Adoption certificate
Marriage contract, often in Islamic countries
Notarized parental consent if one partner is under 21 years of age in the home country
International excerpt from the residents' registration office
How many witnesses are present at the wedding ceremony?
You require two witnesses of legal age for the marriage ceremony.
Do foreigners require an interpreter for the wedding ceremony in Malta?
If one of the persons wishing to marry does not have sufficient knowledge of English, an interpreter is mandatory. You must make arrangements to book an interpreter.
On which days is there generally no wedding ceremony in Malta?
1.1, New Year's Day
Good Friday
Easter Sunday
25.12., Christmas Day
How much does the wedding cost in Malta?
In addition to the cost of the ceremony, there are fees for the notarization. They differ between residence in Malta and abroad, as well as the place of the wedding. As proof of residence, your ID Card is sufficient.
Marriage registry office
Residence in Malta 25.65 Euro
One residence abroad 51.30 Euro
Both residences abroad 76.95 Euro
Marriage in Malta outside registry office
Residence in Malta 51.30 Euro
One residence abroad 76.95 Euro
Both residences abroad 102.60 Euro
Church wedding in Malta
Residence in Malta 25.65 Euro
At least one residence abroad 51.30 Euro
Fee for registration 2.60 Euro
For the certificate of marriage or civil partnership, the registry authority in Malta charges 9.95 Euro. For legalization and apostille, 12 Euro will be charged. Translation into an official EU language costs 10 euros. (As of 10/2022)
In case of a church wedding, a donation to the church is common. Other costs such as photographer, translator, or catering negotiate freely.
Does Malta provide financial support for marriage and marriage ceremonies?
Citizens of Malta receive a marriage grant. This marriage grant of approximately 300 – 500 euros per eligible person depends on various criteria.
Employee, not gainfully employed or pensioner
Length of employment before marriage or civil partnership
First marriage or further marriage after divorce
The applicant applies for the marriage allowance within six months of the date of marriage at the latest.

World of Malta Insider Tip: No Residence in Malta
The required registration of a marriage in Germany is done at the registry office at the German place of residence or habitual abode of one of the couple. Married couples who do not have a place of residence or habitual abode in Germany must register their marriage at the registry office where the marriage is to take place.
In principle, a marriage that took place abroad can only be recognized if,
at the time of the marriage, the substantive legal requirements for marriage (e.g. singleness, minimum age) existed for both fiancés according to their respective domestic law
the law at the place of the marriage was observed with regard to the form of the marriage.
However, in order for a marriage to take place, it is necessary for each of the two parties to have the prerequisites for marriage required by the law of their home country.
Step by step to the marriage of emigrants and foreigners in Malta
You need a plan for your wedding?
Feel free to use our WoM – checklists. These will support your wedding planning.
Checklist "Thought of everything?"
Checklist "What belongs in the emergency basket?"
World of Malta Insider Tip: Apply for Marriage Leave.
Employees are entitled to paid marriage leave depending on the industry. The number of days varies. Workers without a W.R.O. Scheme are entitled to two working days of marriage or marital leave under L.N. 432 of 2007 (minimum special leave entitlement regulations).
FAQ - Do you have questions about marrying as an emigrant or foreigner? We give you the answers!