Malta is the LGPTIQ+ the friendliest country in the world – EuroPride 2023
Spartacus Gay Travel Index selected Malta as the most LGBTQ-friendly country in the world in 2023. Arch-conservative Catholic Malta made significant strides in recent years in recognizing and supporting LGBTQI issues. In promoting LGBTQ rights, Malta is considered one of the pioneers in Europe. Visit Malta pride month every September. Discover the mystical secrets of LGBTQI Malta History.
LGBTQI Malta – Quick Answer for Quick Readers.
Malta is hosting the pan-European EuroPride in 2023.
Since 2014, registered civil partnership including adoption rights is possible.
Malta was the first country in Europe to include the prohibition of discrimination against people on the basis of sexual orientation and gender identity in its constitution.
Malta pride month is annually in September.
Besides the beautiful weather, the progressive attitude makes Malta an attractive destination for LGBTQ people.
You can't do much with LGBTQI or LGBTQ, or LGBTQ+?
All variations are used as abbreviations for
Lesbian
Gay
Bisexual
Transgender
Intersex
and Queer or Questioning
are used. The exact order and spelling vary and depend on the context and preference of the grouping. Few add additional letters, such as "A" for "Asexual" or "P" for "Pansexual".
The Spartacus Gay Travel Index is an annually published ranking of the LGBT+ friendliness of 202 countries. LGBTQI+ travellers have been following it since 2012. The criteria are legal equality, public opinion towards LGBTQI+ and LGBTIQ+-friendly accommodations, bars, and events. 0 stands for severe violation of human rights, the death penalty, torture, and discrimination. The 100 adorns full respect for human rights and full equality. For years, the friendliest and most open-minded countries to LGBTIQ near 100 points have been Canada, Sweden, Netherlands Switzerland and Malta. Additionally, since 2020, the Spartacus Gay Travel Index has assessed the legal situation for queer people in 50 U.S. states.
Since 2009, the International Lesbian, Gay, Bisexual, Trans, and Intersex Association (ILGA) has been compiling the Europe-Rainbow-MapIndex. ILGA maps the situation of the LGBTQI community in Europe. The sunny island nation in the Mediterranean Sea has topped the ranking of 49 European countries since 2015. Malta met the score of 92 percent in 2022.
Why are the islands of Malta a prominent destination for the LGBTQI community?
In recent years, Malta has become one of the emerging destinations for the LGBTQ community. The island in the Mediterranean Sea is known for its progressive rights towards LGBTQI people. In order to protect the LGBTQI group, the parliament enacted many laws and regulations.
Malta offers a variety of LGBTQ-friendly bars, restaurants, and hotels. The thriving LGBTQI community hosts the Malta Pride parade every year. September beckons with gorgeous weather, a warm climate and water temperatures above 24 degrees. The picturesque landscape makes Malta a perfect place for an LGBTQ-friendly vacation. The island offers a wealth of activities, including water sports, hiking, sightseeing, and relaxing on the beach. For LGBTQ travellers looking for a safe and welcoming environment, Malta is an ideal ex-pat and travel destination.
Which Maltese beaches does the LGBTQI community prefer?
Golden Bay Beach: this bay is known for its crystal clear waters and tranquil atmosphere. The secluded and picturesque small bays at Golden Bay are very popular among LGBTQ community.
Gnejna Bay: One of the most beautiful bays in Malta, Gnejna Bay is located on the western end of the island and is a rocky beach. The ideal place for gay sunbathers and bathers who prefer a natural environment.
St. George's Bay: This sheltered swimming bay in vibrant St. Julians is a popular meeting place for the LGBTQI community in Malta.
Pretty Bay: One of the great beaches in Malta is Pretty Bay. There are many bars and cafés closer.
Ramla Bay in Gozo: The fine, red sand beach makes Ramla Bay one of the most beautiful beaches on the island. The beach is ideal for LGBTQ people looking for a quiet, undisturbed environment.
Ghadira Bay: Another popular destination for Malta's LGBTQ community is Ghadira Bay, the largest beach on the island. The beach offers clean facilities and crystal-clear waters.
Malta's beaches have an open and tolerant atmosphere where people of all sexual orientations are welcome. However, the above beaches are a great way for LGBTQ travelers to discover the most beautiful places on the island, safe and accepted.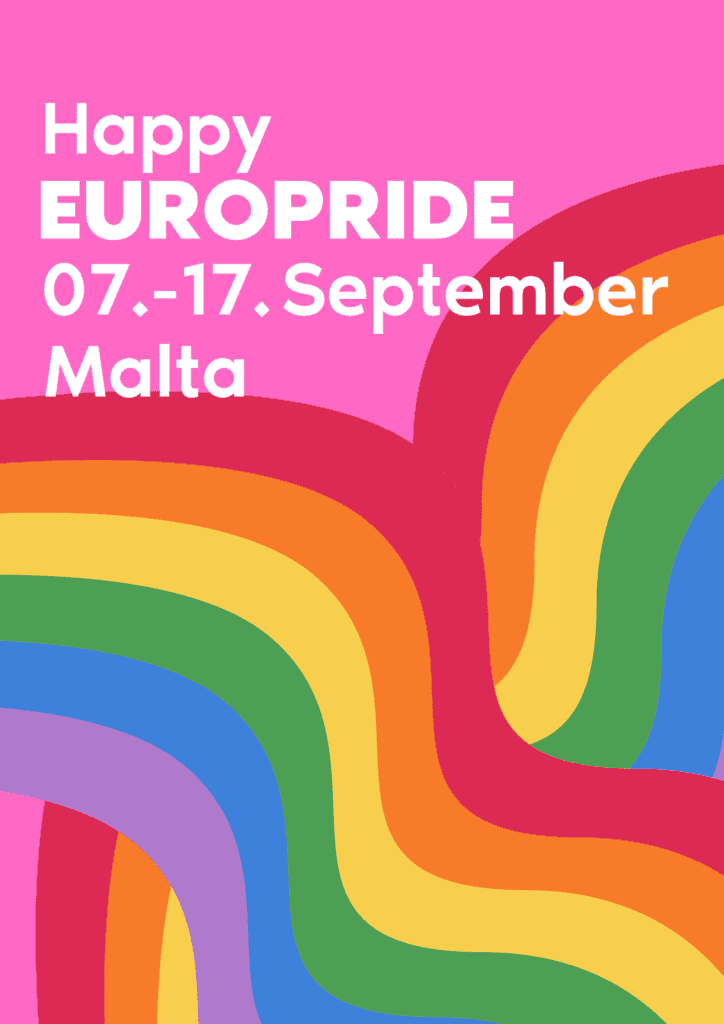 Come experience EuroPride Malta 2023 and celebrate with us!
A historic milestone for LGBTQI rights and a step towards acceptance and diversity
EuroPride is almost a historic event. Since 1992, the LGBTQI+ community has been at the centre of it. This year, Malta is looking forward to welcoming tens of thousands of guests as host of the largest LGBT-Q event in Europe. This is because thousands of people from all over the world already come every year for the annual Pride Month in September.
Europride Malta 2023 is just around the corner – be there and celebrate!
What kind of program does Malta offer at EuroPride?
The event will take place for 10 days. Numerous events include such as a parade, parties, cultural exhibitions, concerts, and lectures by LGBT-Q activists and experts, comprehensive the sun-flooded days.
EuroPride Slogan 20023: Equality from the Heart.
You can look forward to these highlights of EuroPride Malta 2023:
The Pride Parade is without a doubt the highlight of the event. Tens of thousands of participants from all over the world will gather on the streets of Valletta. The goal: to stand together for equal rights and an inclusive society. The parade will be accompanied by varied music, fancy costumes and impressive artistic performances. During EuroPride, numerous art and cultural exhibitions depict the history and experiences of the LGBT-Q community. Visit the cultural institutions and learn a lot about LGBTQI culture and history in Malta.
The event includes numerous concerts and parties where you can dance, have fun and experience a wide variety of artists and music genres. The events provide a great opportunity to connect with other LGBTQI communities and enjoy the atmosphere.
Knowledgeable experts and activists from the LGBT community appear during EuroPride and give talks and discussions. These events are a great opportunity to learn and learn more about current LGBT issues.
EuroPride in Malta culminates with the closing party. There will be an unforgettable night of music, dancing, and entertainment. The event is open to all and is a great opportunity to end the week in a positive and memorable way.
Malta Pride 2023 is a chance to experience island resorts and LGBT culture
The nightlife of St. Julian's is a must-see
Visit the LGBTQ-friendly city of St. Julian's. A popular destination for travelers who want to experience the LGBT culture in Malta. The city near the beach offers numerous bars, clubs, and restaurants, and with the Paceville district, 24/7 nightlife.
Pride Parade
Take part in the Pride parade and other events. Malta Pride offers a variety of events, including parties, parades, concerts, and lectures. Here you can experience LGBT culture firsthand and connect with other like-minded people in a safe and supportive environment.
Lollipop Gay Party Malta
Be welcome to the most exciting and extravagant queer clubbing on the charming island of Malta. Featuring the most dazzling outfits, Lollipop Malta Gay Party is an unforgettable night of fun, music, and energy in St. Julians. The Lollipop Malta Gay Party quickly became one of the most important events in the LGBTQ+ community, attracting party enthusiasts from all over the world every year. Lollipop as a symbol of tolerance and acceptance of LGBTQ+ culture, with an impressive line-up of international DJs. Lollipop with spectacular dance performances and a breathtaking club atmosphere will be held on 08 September,
UNO-Malta
.
PEACH PRIDE – for girls by girls
The exuberant Peach Pride Girls party will take place on September 15, 2023 at Malta's largest open-air club
Numero Uno
.
The EuroPride Concert ft.Christina Aguilera
Christina Aguilera with "Jeanie in a Bottle" will give a concert in Floriana on September 16 from 19:30.
Wet & Wild Boat Party
Come aboard a traditional Turkish gullet for a full day of great boat partying. Dance to the beats of DJs Chris Brown & MarBee. The sail goes to the turquoise-colored waters off the coast of Comino Island in the Blue Lagoon. Throughout the cruise, there will be an open bar with beer, wine, and soft drinks, Mediterranean food, and the best party on the sea.
Malta's Neighboring Islands of Gozo, Comino and St. Paul's Island
Explore the Maltese islands.
St. Paul's Island
in east Mellieha, where the Apostle Paul was stranded on his way to Rome to meet Emperor Nero. Visit the Blue Lagoon movie location of the Troy off Comino or explore
Gozo by bike or hiking
. Malta is famous for its stunning architecture, history, and beaches. You can explore the islands on your own or take guided tours to experience the culture and beauty of the islands.
Spinach & Popeye
To the west of Mellieha is Popeye Village. Located right on Anchor Bay, Sweethaven Village was created there as a set town for the movie Popeye – The Sailor with the Hard Stroke. Today, Popeye Village is a popular amusement park that delights children with special promotions at
holy week, Easter
and Christmastime.
Gay-friendly hotels and accommodations
There are many LGBT-friendly hotels and accommodations in Malta. The welcoming atmosphere at many hotels is located near
major attractions, sights
and venues. From unique boutique hotels to vacation villas, there are many options to experience island life and LGBT culture.
Malta Under the Rainbow
Take advantage of a great EuroPride 2023 opportunity and experience the small island of Malta and LGBTIQ culture. Get to know the Maltese islands and the thriving LGBT community. Among other events, a highlight is the
Feast of Maria Bambina
in the north of Malta, in Mellieha.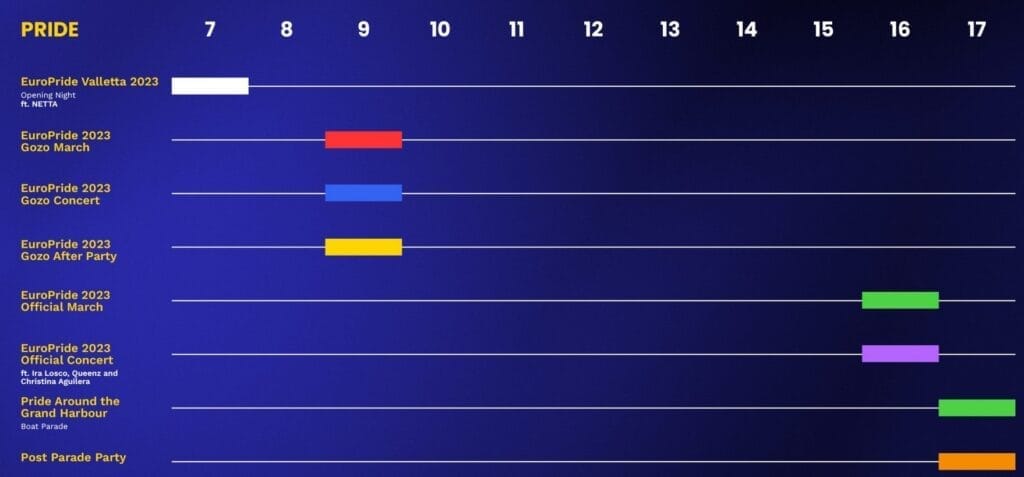 What have been the previous venues of EuroPride since 1992?
1992 London (United Kingdom)
1993 Berlin (Germany)
1994 Amsterdam (Netherlands)
1995 Dropped out
1996 Copenhagen (Denmark)
1997 Paris (France)
1998 Stockholm (Sweden)
1999 Dropped out
2000 Rome (Italy)
2001 Vienna (Austria)
2002 Cologne (Germany)
2003 Manchester (United Kingdom)
2004 Hamburg (Germany)
2005 Oslo (Norway)
2006 London (United Kingdom)
2007 Madrid (Spain)
2008 Stockholm (Sweden)
2009 Zurich (Switzerland)
2010 Warsaw (Poland)
2011 Rome (Italy)
2012 London (United Kingdom)
2013 Marseille (France)
2014 Oslo (Norway)
2015 Riga (Latvia)
2016 Amsterdam (Netherlands)
2017 Madrid (Spain)
2018 Stockholm and Gothenburg (Sweden)
2019 Vienna (Austria)
2020 cancelled
2021 Copenhagen (Denmark)
2022 Belgrade (Serbia)
2023 Valletta (Malta)
2024 Thessaloniki (Greece)
Source WorldPride and EuroPride
Which EuroPride had the most visitors?
Madrid is the absolute leader, with an unprecedented 3 million visitors in 2017.
What were the top 5 EuroPride?
Madrid had the most visitors in 2017 and 2007. With 3 million and ten years earlier 2.5 million visitors, Spain is far ahead of third place Cologne. There were about 1,200,000 visitors there in 2002. Fourth place goes to Amsterdam with 560,000 visitors (source RTL Nieuws,). Closely followed by Hamburg, Love breaks barriers, and Vienna (source ORF) with around 500,000 visitors.
Fancy a quiz on EuroPride and LGBTQI+ Malta?
Enjoy the love in Malta – Malta LGBTQ Friendly Destinations
Malta has become one of the most popular destinations for the LGBTQI community in recent years. The island offers gorgeous beaches, crystal clear water and breathtaking scenery, as well as an open and tolerant atmosphere. It is considered by many to be very pleasant. In the capital Valletta there are bars, restaurants and clubs geared towards the LGBTQI community. There you can meet and party with like-minded people and experience Maltese culture up close. The cities of Sliema and St. Julian's offer a relaxed atmosphere and are known for their hip bars and clubs. On the several kilometres-long sea promenades, one open-air pub follows the other to end the evening with a cocktail or a glass of wine. Mdina is a quieter place. Before the Sovereign Order of Malta (Knights of Malta) built Valletta, the silent city of Mdina was the capital.
Malta is basically considered one of the safest travel destinations in the world. The crime rate is low and the people are friendly and open-minded. If you are looking for an LGBTQ-friendly destination, you will find Malta to be a beautiful, safe and tolerant country.
In conversation with Maltese LGBTQI activists: The work, that remains to be done
While Malta already has laws in place to protect the rights of the LGBTQI community. The Marriage Act and the Protection from Discrimination Act are well known. However, there is still prejudice and discrimination against LGBTIQ+ people.
Gender identity is still a widespread problem in Malta. Some LGBTQI persons are affected by violence and discrimination based on their gender.
Some individuals within the LGBTQ community feel invisible and underrepresented in Malta. There is little awareness of the diversity of people within the LGBTQ community, and not everyone can live their identity openly.
Maltese LGBTQ activists state that there is still a lack of support for the LGBTQ community in Malta. Many organizations struggle to find financial support.
Barriers to accessing health and social care.
Despite these challenges, Maltese LGBTQ activists are working hard to achieve equality for the community. They advocate for a society where all people have equal rights, regardless of their sexual orientation or gender identity.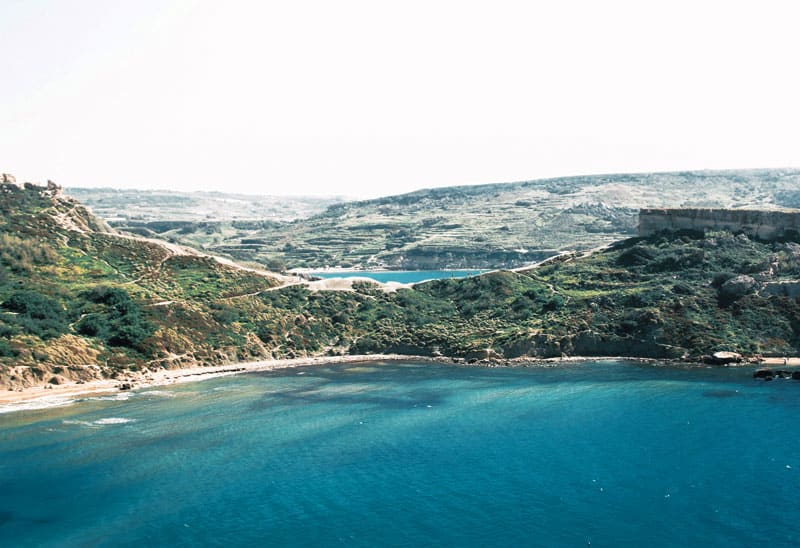 FAQ – Do you have questions about LGBTIQ+ in Malta? We'll give you some answers!
Are you missing a question about LGBTIO+ – Community in Malta?
Get in touch with us. We are sure we have the right answer.
Conclusion: Malta is the LGBTIQ+ number 1 in Europe!
Malta has been leading ILGA's Europe-Rainbow-MapIndex for almost a decade. The Spartacus Gay Travel Index, observed worldwide by the LGBTQ+ community, ranked Malta #1 in 2023. Equality and protection from discrimination for the LGBTIQ community are not Sunday speeches in Malta. The small state in the Mediterranean has been protecting LGBTIQ+ people against discrimination and violence for years through its constitution and numerous laws. These positive developments make Malta a popular destination for LGBTQ people. Malta presents its open and tolerant society with EuroPride 2023. There is no gay beach in Malta. However, plenty of idyllic beaches and bays are gay-friendly.
Author Profile
Maximilian Wallenstein 🔥 His life shaped Dale Carnegie
Even as a sales manager for one of the largest UK insurance groups, Maximilian Wallenstein was passionate about finance topics and economics. As an honorary lecturer on tax law at the German Union, he is no stranger to German tax law. As a keynote speaker on the social security system, Maximilian Wallenstein appeared before financial services companies. His personal development was supported for several months by the Dale Carnegie Foundation. Maximilian not only irons his own shirts, but as a certified online copywriter, he also shares his financial knowledge as a guest author and ghostwriter for market-leading financial portals.