How waste and garbage disposal works perfectly in Malta? [new 2023]
Immigrants, immigrants and ex-pats to Malta bother early, by the daily mountains of plastic garbage bags on the sidewalks. No getting through, certainly not with a stroller or trolley. Cats, rodents and vermin linger near the goodies of organic garbage. Why do the Maltese throw their trash out the door?
Trash is picked up daily (except Sunday)

Houses do not have dumpsters and garbage cans

Free garbage disposal for the citizens
Helpful, especially for immigrants, is the uniform waste system in Malta.
Waste separation and rubbish collection – Quick Answer for Quick Readers
There is a simple plan for waste separation in Malta:
Organic waste such as food goes in an organic white trash bag.

For recyclable waste, use a grey or green rubbish bag.

Take the plastic and glass deposit bottles to the deposit machine.

The other household waste is in the black garbage bag.

For batteries, supermarkets have battery collection stations.

The glass you throw every few hundred meters in the containers.
In addition, a vehicle comes twice a month to pick up glass and e-waste. The collection schedule is the same in Malta. The garbage collection goes through all the streets six days a week.
What is the process of rubbish collection and waste disposal in Malta?
After a few days, every immigrant understands the system. This is because in every flat there is a plan for the waste separation and the times of the waste collection. These are uniform in Malta and available on the Internet. Since the deposit system for plastic bottles was enforced by the EU, there are deposit machines distributed every few hundred meters. Malta has the highest waste generation per person in Europe: 50 per cent more waste and garbage than the average of European countries. In terms of recycling, Malta is far behind in last place (as of 18-01-2023, source European Parliament).
Malta developed a Waste Management Plan
You separate the garbage by type. On the given day, you place the waste bag(s) in question outside the door after 6 am. During the day, the rubbish collection service comes and collects the garbage bags and sacks.
This National Plan on Waste Management will apply to all localities from 2 January 2023. It will also be implemented on public holidays (public holidays).
Monday: organic waste (organic, white bag)

Tuesday: residual waste (mixed waste, black bag)

Wednesday: organic waste (organic, white bag)

Thursday: recyclable waste (green/grey bag)

Friday: organic waste (organic, white bag)

Saturday: residual waste (mixed waste, black bag)

Sunday: no waste disposal

1st Friday of the month: glass collection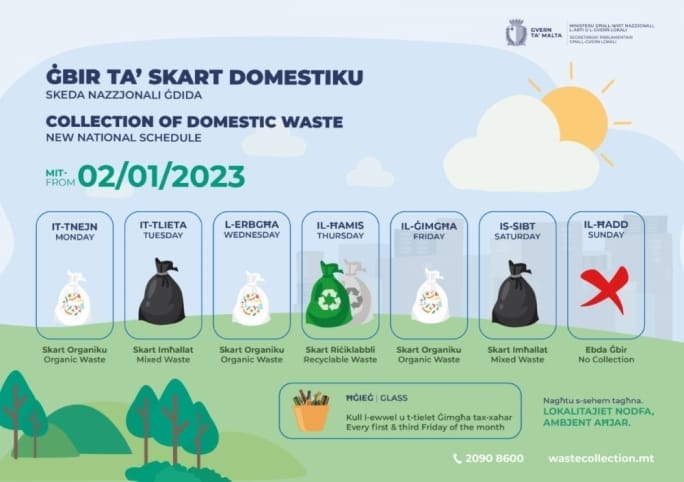 Most citizens of Malta positively accept the waste separation and deposit system. It pays off for everyone. In the morning, there are significantly fewer rubbish bags in front of the door. The introduction of the deposit system on plastic bottles has reduced the number of trips made by garbage collectors from eight to six times.
How does the waste separation work via the different garbage bags and sacks?
There is the division into different categories in Malta. The simple plan for the separation of household waste:
Organic waste such as food, animal carcasses, and plants.

Recyclable waste such as cardboard and paper, plastic or tin cans

Residual waste that is not recycled and is not a problem material

Glass bottles, plastic and glass deposit bottles

Batteries and rechargeable batteries do not belong in the trash bag. There are battery collection stations.

Hazardous waste, electronic waste as well as glass bottles are collected by special vehicles.
How do the garbage bags differ in Malta?
Different garbage bags and sacks are used depending on the type of waste. They are available in different sizes.
The organic waste goes in white and transparent garbage bags.
For the recyclable waste, you need grey or green garbage bags.
The residual waste goes into black garbage bags.
You can buy these garbage bags and waste bags in supermarkets, kiosks and grocery stores. 15–25 bags cost between 80 cents and 2 euros, depending on quality and quantity. Do you like the organic waste bag perfumed? Then 20 to 25 waste bags cost around 3 euros. Environmentally conscious citizens use 100 per cent recyclable bags for organic waste. You can get these when you buy baked goods, fruit, and vegetables in some supermarkets.
For the collection of glass bottles, a garbage truck comes through all streets at the beginning of the month. For battery disposal, battery collection stations are located in major supermarkets. Large appliances and electronic waste are also collected. There are no fixed dates.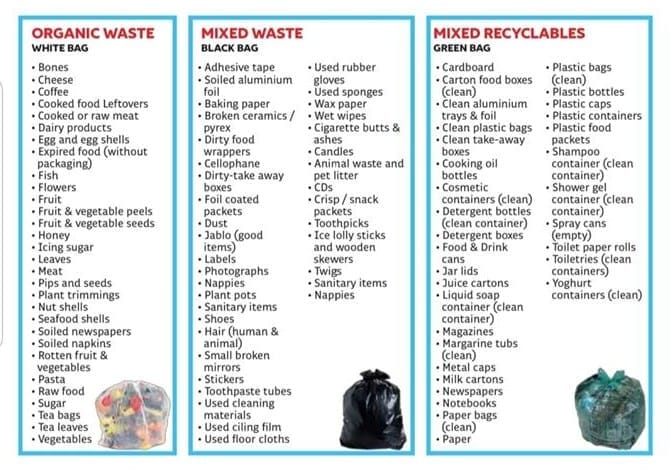 This is why food scraps do not belong in the black garbage bag.
The food in the black garbage bag ends up in the landfill. There it rots and releases methane, a greenhouse gas, into the atmosphere. Methane has a warming effect of more than 25 times greater than carbon dioxide. In addition, in the summer, there are very unpleasant smells between Salina and the recreation and swimming pool at Pembroke.
What are the deposit machines for and where are they located?
A significant portion of recyclable waste from 2014 to 2022 was plastic water bottles and containers. For the beverage cans and plastic bottles, some deposit glass bottles charge a deposit since the end of 2022. This deposit is returned to you at the vending machines in the form of a voucher. You redeem this voucher in the supermarket. Some stores unlawfully accept only the deposit bonds from reverse vending machines (deposit machines) near their store. Check the BCRS website to find the nearest deposit machine near you. They were established in late 2022 and have been an integral part of the Recycle program since 2023.
How much is the deposit in Malta?
Shops and supermarkets charge a deposit of 30 cents on some glass bottles. Plastic bottles and beverage cans have a uniform deposit of 10 cents (deposit scheme). You can recognise deposit bottles by a barcode.
When is the best time to return bottles and cans?
Vending machines outside shops can be used 24 hours a day. A good time without long queues is between 2 am and 4 am and between 1 pm and 3 pm when the temperature is above 35 degrees. There is usually a queue at the deposit machine, so many people bring bags of bottles and cans. These are often between 60 and 130 containers. If two or three people are in front of them, the wait can be an hour or more. In the shops, the best time is sometimes right after they open in the morning, unless the machine is being cleaned. In the afternoon, from 4 p.m. to 1 a.m., the vending machines are typically busy longer because it is cooler.
Are there public bins for glass, cardboard, metal, plastic and used glass containers in Malta?
There are container areas at several locations in the districts. There you throw your cardboard, plastic, metals and glasses into the various beverage containers. As they stand together, you can unscrew the metal screw caps from glass bottles and put them in the metal container. They are an important part of the city's infrastructure and ensure effective waste separation. The rubbish and glass containers are emptied several times a month.
There are litter bins and dog waste bins every few hundred metres along the paths and roads. This waste system contributes to relatively clean and hygienic towns and green areas in Malta.
A significant proportion of recyclable waste from 2014 to 2022 was plastic water bottles and containers. A deposit has been charged for beverage cans, plastic bottles, and some deposit glass bottles since the end of 2022. You can get this deposit back at the vending machines in the form of a voucher. You redeem this voucher in the supermarket. Some shops unlawfully only accept deposit vouchers from the reverse vending machine (deposit machine) near their shop. Check the BCRS website to find the nearest reverse vending machine near you. They were set up in late 2022 and have been an integral part of the Recycle Programme since 2023.
Are there battery drop-off and collection points in Malta?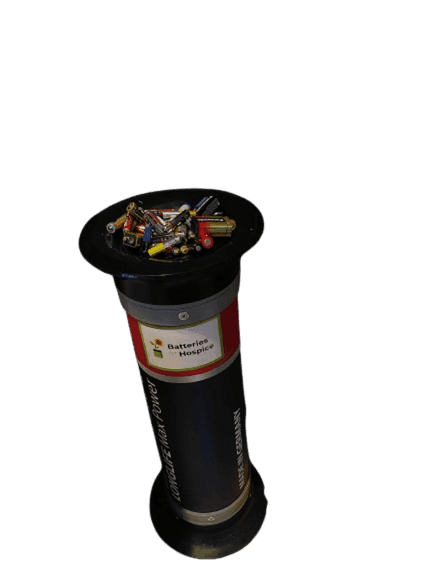 According to GreenPak, over 2 million batteries are imported every year. GreenPak promotes the recycling of batteries. Battery collection bins have been placed in major supermarkets, some stationery shops, Banks, city councils and schools. The Battery Collection Points stay 500-mal in Malta and Gozo.

When batteries are disposed of through the black bin liners, harmful substances such as heavy metals are released. They contaminate the soil, surface water and the little groundwater available. Disposing of them via the collection bins is at least in the interest of all citizens living in Malta.
Lithium batteries should have their terminals taped off before disposal. Lithium is a reactive and highly combustible metal.
Waste batteries are efficiently recycled in modern recycling plants. Their components, such as iron, alkali manganese, lithium, zinc, carbon and steel, are returned to the production cycle. According to GreenPak, they collect donations for the Malta Hospice when they recycle batteries.
What are the benefits of the waste separation system for Malta?
The waste separation programme has a positive impact on the climate. Recycling waste reduces the emission of greenhouse gases. Malta not only has the highest waste consumption per capita in Europe. In addition, the air quality in Malta suffers from the very high traffic density. Another nuisance for residents and holidaymakers is the landfill near Salina. Due to the permanent contamination of the soil and groundwater in this beautiful area, swimming in Salina Bay has been banned for health reasons. The deposit system, long denied by the Maltese government, reduces plastic waste in the sea. Many people in Malta, therefore, support the recycling programme. It is an important step towards
a sustainable and environmentally friendly future,
reducing pollution,
ecological and clean
and conserve resources.

A closed-loop system provides the incentive to return single-use beverage containers by refunding the deposit. Thus, the beverage containers are collected at the redemption points. The BCRS Malta clearing centre sells recyclable material to industrial recyclers.
What are the fees and costs incurred by citizens through the waste separation system?
Malta does not explicitly charge households and citizens for waste and refuse. In principle, citizens always bear part of the costs, as manufacturers and businesses pass on their costs to the prices. For example, every importer of goods to Malta joins a recycling system such as GreenMT. GreenMT charges a fee for the packaging material imported with the goods. The polluter pays principle applies. The buyer or consumer pays the recycling fee for the packaging. There is a cost of a few cents per bag to purchase the bin liners.
The additional 10-cent charge for the plastic bottles is returned to the buyer as a voucher (receipt). Waste paper can be used for paper production. All organic waste in the white or transparent waste bags is processed in the anaerobic digestion plant (AD plant). Compost and biogas are produced. The biogas is converted to electricity and 2.58 GWh of electricity is generated. This 2,580,000 kW is enough for about 500 households. The electricity generated from organic waste is only a drop in the ocean for a population of about 500,000. However, it is put to good use.
(One watt is the energy needed to heat one gram of water by 14.3 degrees in one minute).
FAQ - Do you have questions about waste disposal or waste collection? We give you the answers!
Are you missing a question about waste prevention, disposal and waste management?
Get in touch with us. We are sure we have the right answer.
Conclusion: Malta's waste and waste separation system comes late, but it works
Malta is implementing its waste management plan. With more than two million holiday guests every year, it was about time. Malta produces more waste than other countries in Europe. Since 2023, there are deposit machines for plastic bottles all over the country. The waste collection comes six days a week. Public holidays are no obstacle. The waste is separated into organic waste, recyclable waste and other residual waste. In addition to the collection of glass, electrical appliances, hazardous waste and scrap metal, there are battery collection stations and a container system for cardboard, waste paper, glass and plastic. There is no charge for waste collection. Malta is finally on the fast track to becoming an ecological and clean country.

Author Profile
Maximilian Wallenstein 🔥 His life shaped Dale Carnegie
Even as a sales manager for one of the largest UK's insurance groups, Maximilian Wallenstein was passionate about finance topics and economics. As an honorary lecturer on tax law at the Union, he is no stranger to German tax law. As a keynote speaker on the social security system, Maximilian Wallenstein appeared before financial services companies. His personal development was supported for several months by the Dale Carnegie Foundation. Maximilian not only irons his own shirts, but as a certified online copywriter, he also shares his financial knowledge as a guest author and ghostwriter for market-leading financial portals.