Malta's Cannabis Social Club - Pioneer for Europe
1976 sang Peter Tosh – Legalize It. Since 2022, Malta has been the first EU country to allow the consumption and cultivation of cannabis. Parliament voted 36 to 27 in favor of legalization. Trade in the drug remains prohibited. The possession of 7 grams of cannabis and the cultivation of four plants is allowed for adults.
Cannabis legalization in Malta: keep it simple or shoot with cannons at sparrows?
The government of Malta passed its Cannabis Social Clubs Act in November 2021 with a clear majority. The rules for Cannabis Social Clubs (CSCs) are considered very strict for some adult users. Malta had no benchmarks to draw on in Europe, and at first glance set up high hurdles for establishing a Cannabis Harm Reduction Associations. Malta's government is considered flexible in the interpretation of laws and can quickly introduce necessary improvements. It may be misunderstood by friends of the cannabis plant that the government also represents the population that is not interested in or opposed to smoking weed dop, shit or piece.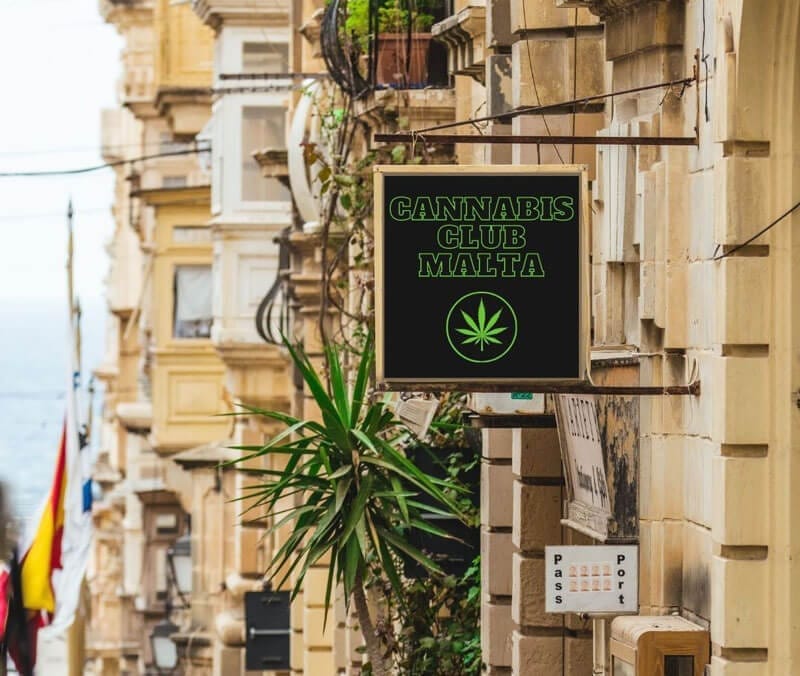 In Canada, legalization has failed! Really?
According to critics, Canada has shown that legalizing cannabis only allows 60 per cent of the population to buy legally. 40 per cent still prefer their drug dealer. Yes, that's what the statistics say and there is no other information. In Canada, citizens are allowed to buy cannabis legally. Before the law, 100 per cent were bought illegally from drug dealers without quality control, now it is only 40 per cent. The survey also does not explain whether the 40 per cent buy predominantly from their home dealer because certain cultivation methods or various extraction methods are not available in cannabis stores or coffee shops.
It is also true that liberalization provides incentives for cannabis use. If more adults use cannabis, young people will also see cannabis use as normal,
Does the Maltese government want to promote cannabis like iGaming, online casinos, sports betting and Golden EU passport?
That's not out of the question with Malta's government, which often springs surprises when it comes to the financial gain of government members or staying in power. Head of government Abela said after the law that Malta continues to stand firmly against drug use. However, cannabis users should not be criminals or have a criminal record in the future. The law also prevents young people from being arrested for smoking a joint and having to appear in court.
The government calls the cannabis law a harm-reduction approach to prevent a black market for cannabis. Instead of synthetic drugs from the dealer around the corner, the CSC provides high-quality cannabis for consumption purposes.
It can be added, the criminalization of cannabis carries the dangers of
Loss of driving license
Loss of job
Police burdened with petty crime
How many cannabis plants can individuals grow?
Four plants are allowed by the ARUC per household. As with CSCs, they must not be visible from the outside. There must be a number or limit to allow for small quantities. Germany feels that three plants is sufficient for individual or family home consumption.
How will the number of quantities be controlled?
In Germany, it would be simple. Germany has been developing into a country of denouncers for decades, possibly due to historical reasons. There, the neighbors watch with binoculars for cannabis cultivation in the neighborhood. The ARUC may check in households, but the ARUC does not plan mass home visits. Presumably, it will be random finds when other laws have already been violated and a search of the home takes place.
What are the penalties for violating the cannabis law?
Drug dealers still face jail time. Consumption of cannabis in public is punishable by the authorities with a fine of 235 euros. Consumption in the presence of children can result in a fine of between 300 and 500 euros.
Want to know more about the health risks of cannabis?
Cannabis, hashish and marijuana, what is the difference?
Cannabis is the Latin term for the hemp plants. Thus, marijuana, cannabis, and hemp has everything to do with the hemp plants. It is also one of the oldest useful and cultivated plants on earth and is used for building materials, food or traditional home remedies. The best-known and widely used Cannabis sativa has been used for thousands of years to treat pain, sleep disorders and depression. Cannabis for medicinal purposes differs from products for other purposes (commercial hemp, industrial hemp). In literature, cannabis was named for the first time in China in the period 2700 BC. Besides the drugs hashish and marijuana, hemp is used to make ropes, edible oils or essential oils.
Hashish: Dop, Shit or Piece of pressed cannabis resin comes from the female plant.
Marijuana: Grass, Speed, Pot or Marie Change are from dried petals and the stem.
Hash oil is extracted from the resin of the hemp flower.
Everything comes from the cannabis plant and contains intoxicating tetrahydrocannabinol (THC). Therefore, all products are comparable. However, different cultivation methods and extraction methods, as well as the varieties provide a different intoxicating sensation.
THC content of marijuana is 3-15%, greenhouse-grown up to 20 per cent.
THC content of hashish is between 11 and 19 per cent, greenhouse-grown up to 30 per cent
Refined hashish oil or hash oil up to 90 per cent
The non-intoxicating CBD (cannabidiol) is additionally extracted from the hemp plant. The cultivation of fibre hemp varieties with an active ingredient content below 0.2 per cent THC is permitted under EU regulations.
How does the THC of cannabis work?
The psychoactive THC affects the central nervous system. It produces euphoria, anxiety, sedation, drowsiness, but also nausea and vomiting. The human body activates the intoxicating feeling with its messenger substances endocannabinoids. The liver breaks down THC as well as alcohol.
Vaporizing cannabis is much healthier than smoking cannabis with tobacco!
There are no reliable studies on cannabis smoking and its effect on the lungs and heart. However, it is certain that smoking tobacco damages the lungs, heart, and circulation and promotes cancer. Cannabis smoking is very likely to damage the lungs as well. However, it is doubted that the medicinal plant hemp causes lung cancer. However, a risk factor with cannabis seems to be testicular cancer. Not proven, but striking deviation compared to non-users. Vaporizing cannabis is the healthier form of consumption as of 2023.
Cannabis is addictive!
50 per cent of people addicted to cannabis have already used cannabis at a young age (from about 15 years). It is estimated that 10 per cent of regular users may be addicted. This is significantly lower than for alcohol.
Cannabis leads to the use of harder drugs and promotes psychosis
Cannabis has been observed to promote psychosis since the early 2000s. The triggers and correlations have not yet been fully established. The number of people affected is very small compared to alcohol addiction. Since the brain is not supposed to be fully developed until the age of 25. This remodelling of the brain happens with a figuratively speaking protective shell that is perforated by cannabis like Swiss cheese. In purely figurative terms. Many scientists suspect a connection between psychoses in young people and early cannabis use.
Due to legalization in some European countries, cannabis is now a public issue. Thus, perhaps research on the link between psychosis and cannabis will provide quicker insights. The entry about cannabis leading to harder drugs like heroin is not evident, so there is no evidence for it.
Cannabis is more dangerous than alcohol
The neurotoxin alcohol is significantly more dangerous than cannabis. It destroys the liver, brain, heart and many other organs. Unlike alcohol, cannabis use is not known to cause people to die earlier. The exception is cardiovascular disease. As a general rule, whether alcohol or cannabis, no substance should be regularly consumed en masse at a young age.
Legalization makes it easier for young people with drug problems to talk about it and inform others!
That remains to be seen. For those who only come into contact with the internet through cannabis, this will certainly be the case.
Cannabis helps to self-medicate sleep disorders, ADHD, and stress!
Cannabis does not improve mental illnesses such as ADHD, stress or others, it persists. There is a danger of dependence and addiction. A physical tolerance ensures more consumption of cannabis.
Why is CSC needed in the EU instead of selling in coffee shops or stores?
The EU prohibits the sale of cannabis with a framework decision from 2004. Giving it away or giving it to club members is allowed. This is reminiscent of the smoking law in Germany. Smoking was banned in restaurants and pubs at the beginning of the millennium. Those who converted their pub into a smoking club were allowed to continue smoking their cigarettes and cigars at the counter. So many EU countries are tinkering with legal circumvention of the 20-year-old Framework Decision based on scientific studies from the last millennium. The easiest way of government's:
Several laws oppose the sale, the quick purchase at the gas station, lottery store, supermarket or in restaurants on the toilet next to the condom machine. Illegal drug trafficking is the sale or distribution of drugs without authorization.
Single Convention on Narcotic Drugs, 1961
Narcotic Drugs Convention, 1988
EU Framework Decision, 2004
Schengen Protocol
Catalog of varieties
If a government does not want to follow these laws and allows the sale, trade, and smoking of pot, it can withdraw from the European Union.
Giving it away or giving it away, as to club members, is allowed. This is reminiscent of the smoking law in Germany. Smoking was banned in restaurants and pubs at the beginning of the millennium. In pubs operated as smoking clubs, smoking continued at the tables and counters. So many European countries are tinkering with legal circumvention of the 20-year-old Framework Decision on the basis of scientific studies from the last millennium. The goal: to prevent drug tourism between EU countries. The government's easiest way in five steps:
Establish non-profit cannabis social club for marijuana or allow hemp plants.
Put cultivation, harvesting, storage, packaging, transportation and distribution of nonmedical cannabis into law
Control by the state
Membership fee for NGO CSC
Allow free cannabis in limited quantities, but prohibit the sale
This allows a government to influence youth protection, addiction, prevention, and product quality. The alternative remains area-wide, scientific pilot projects with a completely legalized value chain. Wait until the legal situation in the EU changes. The EU seems to enjoy passing laws and imposing on member countries how to circumvent these laws in the most bureaucratic way possible. This creates fees for law firms that have a strong presence in the EU, in Germany and in many other parliaments in Europe. The legal considerations are complex. It is not excluded that, as in Holland, the sale is also possible.
Can CSCs provide cannabis to all consumers in Malta?
A Cannabis Social Club appears to be a Friends & Family program. If only 5 per cent of residents in Malta want to join a club, ACUR must approve at least 50 clubs. Is there enough space for that in Malta? This is because the buildings must have many legal safety requirements and must keep their distance from schools, kindergartens, and youth facilities. In Hamburg, it was determined, in the city would then be no room for CSCs at a radius of 250 meters each. Sure seems, your CSC will not have to look for members. They will be "overrun" by requests.
How do other EU countries regulate cannabis use?
Most EU countries have not opened up.
| | Konsum Cannnabis erlaubt? | Strafe | Menge | Bezug Cannabis |
| --- | --- | --- | --- | --- |
| Belgien | Ordnungswidrigkeit bis 3 Gramm und 1 Pflanze ab 18 Jahre | 15 – 125 Euro, bei mehreren Verstößen 8 Tage Gefängnis | 3 Gramm, 1 Pflanze | |
| Frankreich | Ordnungswidrigkeit bis 100 Gramm | 150 Euro – 7,5 Mio und Gefängnis | Individuell | Nicht erlaubt |
| Italien | Eigenanbau und Konsum, Verwaltungsrechtlich geahndet | Entzug des Führerschein, Aufenthaltsgenehmigung, Waffenpass, | Undefinierte Menge, die auf persönlichen Konsum schließen lassen | |
| Luxemburg | Ordnungswidrigkeit Besitz und Erwerb 3 Gramm, 4 Pflanzen | | | |
| Malta | Seit Dezember 2021 in privaten Räumen, 7 Gramm,3 Pflanzen | Keine | 7 Gramm und 3 Pflanzen | |
| Niederlande | Verboten, jedoch bis 5 Gramm Cannabis und 5 Cannabispflanzen geduldet | Strafverfolgung ausgesetzt | 5 Gramm, 5 Pflanzen | Coffeeshops kleine Mengen Cannabis |
| Portugal | Ordnungswidrigkeit bis 25 Gramm | Wiederholungsfall, Geldbuße oder Führerscheinentzug möglich | | |
| Spanien | Ordnungswidrigkeit | | | Cannabis Social Clubs geduldet, Handel verboten, |
| Tschechien | Seit 2010 Ordnungswidrigkeit bis 15 Gramm und 5 Pflanzen | bis 500 Euro | 15 Gramm, 5 Pflanzen | Rezeptpflichtig aus Apotheke, Cannabis-Gummibärchen und -Schokolade bis 1 Gramm THC |
| Schweiz (EWR) | Erwerb, Zubereitung und Besitz straffrei bis 10 Gramm ab 18 Jahre; Konsum Ordnungswidrigkeit | Von Polizei beobachteter Konsum 100 Sfr | | |
Status June 2023
Countries design pilot projects on legal cannabis purchase and cultivation. The Netherlands launched a social science experiment in ten municipalities in 2017. Cannabis is dispensed to different groups in 10 different coffee shops. Ireland launched a five-year pilot program in 2019. The EEA country of Switzerland has been testing the Weed Care Experiment with 374 people since 2021.
How many people use cannabis worldwide?
WHO estimates cannabis users to be around 209 million people out of 8 billion inhabitants on Earth.
Do Malta's citizens have a right to intoxication?
😊 The consumption of many substances is not illegal. We as a society take away the right to alcohol and drug intoxication. The possible shortening of life and possible accidents while intoxicated are accepted by some of us. Legalising drugs increases social pressure and can put the developmental opportunities and mental health of the younger generation at greater risk.
How does Malta regulate cannabis social clubs?
The Authority for the Responsible Use of Cannabis (ARUC) was established to oversee CSCs. It oversees the implementation of technical and organizational standards and issues licences.
Membership and management of the Cannabis Social Club
Prior to incorporation, the CHRA submits its 3-year business plan to the ARUC for approval.
The application fee is 1,000 euros.
The annual licence fee is graduated by members.
Association purposes are the cultivation and dispensing of cannabis.
The CHRAs do not operate for profit.
A CHRA has a maximum of 500 members
The minimum age for members is 18 years.
Membership is limited to one association in Malta.
A minimum period of residence in Malta prior to membership is five years.
The board of directors or key officer is qualified, has five years of management experience and personally supervises operations.
Between three and nine members oversee other areas such as security, planting or dispensing.
Key officers, founding members and employees are trained in harm reduction.
The ARUC approves the CHRA's board of directors and executive director, respectively.
Annual financial reports are submitted to the ARUC.
Cannabis Social Club production facility, association building and dispensary.
The production and dispensary are in different buildings.
The buildings are registered with the ARUC and have a minimum distance of 250 meters from schools and youth facilities.
Only cannabis flowers are produced and dispensed.
The cultivation is done by the CHRA. Purchasing products from third parties is not permitted.
Persons independent of the CSC test the products.
The distribution takes place to members. The sale of cannabis is prohibited.
Consumption on the club premises is not allowed.
These are the documents a CHRA submits to the authority
A copy of the draft by-laws
The logo
The membership policy
Organizational structure
Personal statement form, a declaration of assets
Form for verification of reliability and probity
Form for special authorization for each of the founders, officers, and administrators (key officer)
Code of conduct
Copies of any agreements or letters of commitment with key function holders
The requirements appear strict for cannabis users. The term social club has been emptied. The hemp is grown together, but no joint smoking takes place in the club. Thus, cannabis parties remain limited to private flats or houses. The nerve poison alcohol may be drunk pretty much everywhere together, the Shishas and water pipe smoking knows likewise no prohibition for common enjoying. In the club, like-minded people are not allowed to smoke a joint together under group control. Have a good time in a common living room.
Critics also complain:
If the harvest is bad, no plants may be bought in.
The exchange of seedlings and possible crossing of varieties is prohibited.
In the event of crop failure, the consuming member is left to cancel membership and switch to a CSC with sufficient cannabis plants.
The club has to finance itself. Membership will hardly be worthwhile for occasional stoners, as the club has not inconsiderable costs in fees, training, safety precautions and purchasing.
What do cannabis social clubs have to consider when marketing?
Advertising for the cannabis social club is prohibited. The production facility, club building and dispensary are not visible from the outside and are also free of cannabis advertising.
Who provides information on the cannabis trade, cultivation, transport and the CSC?

ARUC
Level 4, Onda Buisness Centre
Aldo Moro Rd,
Marsa MRS 9065
phone: 0035 623889600
[email protected]
www.aruc.mt
FAQs - You have questions about the CSC? We give you the answers!
Are you missing a question about the Cannabis Social Club in Malta?
Get in touch with us. We are sure we have the right answer.
Conclusion: CSC – A trade-off between the protection of minors and joints for all.
In Malta, cannabis in flower form may be produced and dispensed. Cultivation must be done by the CHRA and may not be obtained from third parties. The consumption of cannabis is only allowed in private rooms without children, hence not in the club. A person who only smokes pot infrequently is unlikely to become a dues-paying member of the Cannabis Social Club. The question arises: If a CSC has to make so much effort, can the membership fee be cheaper than the purchase by consumers on the black market?
Both properties (cultivation area and dispensary) are registered with the ARUC and have a minimum distance of 250 m from schools or youth facilities. The Cannabis Social Club has a key officer and at least three other members for other areas of responsibility. As this is the first law in Europe for cannabis social clubs, there is no experience. Some things seem to be unclear, so the ARUC will continuously adapt the guidelines.
Supporters of the legal distribution of cannabis and critics of the law assume that a successful nationwide supply of the population by means of cannabis social clubs in Malta is politically undesirable. After all, Malta has already legalized the cultivation and consumption of cannabis at the end of 2021 as the first EU country. Four plants are for private use and 7 grams are permitted for personal consumption. The critics of too harsh laws in Malta, especially from other EU countries, are still years away.
Legal notice and disclaimer: Despite careful checking, the information on this page may contain errors or may not be up-to-date. It is not a substitute for legal or tax advice. World of Malta does not accept any liability for the content, completeness, or even the effect of the statements. World of Malta provides information free of charge and is intended to serve as an inspiration to you. We strongly encourage each reader to check this information on their own.
Author Profile
Maximilian Wallenstein 🔥 His life shaped Dale Carnegie
Even as a sales manager for one of the largest UK's insurance groups, Maximilian Wallenstein was passionate about finance topics and economics. As an honorary lecturer on tax law at the german Union, he is no stranger to German tax law. As a keynote speaker on the social security system, Maximilian Wallenstein appeared before financial services companies. His personal development was supported for several months by the Dale Carnegie Foundation. Maximilian not only irons his own shirts, but as a certified online copywriter, he also shares his financial knowledge as a guest author and ghostwriter for market-leading financial portals.