Celebrate International Women's Day and Equality Day in Malta 2022
The 26th is the anniversary of Women's Equality Day. In the USA, Women's Equality Day has been celebrated annually since August 26, 1971. Thus, Women's Equality Day is a purely American "holiday". The day falls on the anniversary of the ratification of the 19th Amendment to the Constitution, which "granted" women the right to vote in the United States.
In Europe, International Women's Day has existed since March 19, 1911. In 1921, International Women's Day was moved to March 8. This was determined by the Second International Socialist Conference of Women. For many decades, International Women's Day (IWD) on March 8 has been a global holiday. How does Malta celebrate these women's holidays?
#IWD2022   #InternationalWomensDay   #BreakTheBias
What do International Women's Day and Women's Equality Day mean?
International Women's Day is not usually a public holiday. So it is not here in Malta either. International Women's Day and the Women's Equality Day is not a public holiday in the USA. However, this does not mean that these two days have no special significance. It commemorates every year:
The ongoing struggle for women's participation and equality in all aspects of life and society.
Women's struggle for equality
The quest or struggle for equality has a long history. 150 years of protest and struggle for women's suffrage in the USA are historically documented. The Woman Suffrage Amendment was first introduced on January 10, 1878. It failed for decades due to the majority of (male) opponents of women's rights in government. In the USA, the places and manner of holding elections in each state by the legislature thereof. During this time, it was common in the USA that women could not inherit property. The women were paid no more than half the wages of a man in the available professions.
18 months of protest in front of the White House did not help
In 1917, women demonstrated for 18 months in front of the White House under the name "The Silent Sentinels". They denounced hypocrisy in the USA. In Europe, democracy was fought for shortly before in World War 1. However, these rights remain denied to women in the USA. On 26 August 1970, Betty Friedan and the National Organization for Women organized a nationwide women's strike for equal rights. More than 100,000 women participated in the strike in about 90 large and small cities across the United States. On Fifth Avenue in New York City, there were over 50,000 women.
Since 1971, women's rights are in the American Constitution
In 1971, Women's Equality Day found its way into the US Constitution. Twenty-six August each year since then has been Women's Equality Day. The American president is authorized and required to issue an annual proclamation commemorating women's suffrage and the 1970 strike for equal rights. An outstanding Women's Equality Day speech was given in 2013 by then U.S. President Barack Obama.
Hillary Clinton's 1995 speech commemorating 25 years of Woman Right

The official International Women's Day 2022 campaign theme: #BreakTheBias
Imagine a gender equal world.
A world free of bias, stereotypes, and discrimination.
A world that is diverse, equitable, and inclusive.
A world where difference is valued and celebrated.
Together we can forge women's equality.
Collectively, we can all #BreakTheBias.
The European International Women's Day
In Finland, which was a constituent part of Russia, women's suffrage was introduced as early as 1906. Great Britain was also one of the pioneers in Europe for women's suffrage. On August 26, 1910, the time had come. In Copenhagen, more than 100 delegates from 17 nations met at the Danish Trade Union House for the Second International Socialist Conference of Women. Women's Day, introduced by May Wood Simons in the USA in 1908, was to be initiated worldwide. This was the starting date for International Women's Day.
The women's movement was primarily concerned with women's right to vote. In the medium term, they wanted to achieve more for women in society:
Social welfare for mother and child
Equal treatment for single mothers
Provision of kindergartens
Free school meals and teaching materials
International solidarity and cooperation of organized women
Political and economic rights
Against war
Against exploitation and disenfranchisement
In 1911, more than a million people demonstrated after calls from trade unions and social democratic parties. They took to the streets in four countries: Germany, Austria, Denmark, and Switzerland. A few months later, Sweden, the Netherlands, France, and Russia also joined the movement. After the world wars, it became somewhat quieter around International Women's Day for many years.
What do women's rights activists criticize International Women's Day?
There is still a long way to go for equal rights. Currently, in some countries, mansplaining, manspreading, man slamming or man interrupting prevails. These terms express the disrespect of men towards women. Even though many men have certainly dealt with the criticism or are dealing with the criticism, there is still a long way to go. Some feminists fear that another hundred years will pass.
Famous women's rights activists like Nigerian author Chimamanda Ngozi Adichie call for more male awareness, even of the small injustices in everyday life. Men should look closely and use opportunities to take a clear stand for equal rights. Reflecting on gender roles, breaking down stereotypes, benefits not the least men. In Malta, there is a European Union project called Equality 4 all mt. Equality 4 all mt is not tied to International Women's Day.
What do Maltese women want for International Women's Day?
Better childcare
Equal pay for equal performance / profession
More women in "typical" male professions to become role models for young women
Women should support each other more, instead of working apathetically or even against each other
Women's quotas in governments, supervisory boards, management, and executive boards
More women should enter politics to organize majorities for more women's rights
No Sexual Harassment
Comprehensive maternity protection and reconciliation of care, family and career
Fewer words, more action
Do you have any other ideas? Let us know via the comments field. We look forward to hearing more ideas. We'd love to add to this list.
Malta compared to other EU countries
With 65.0 out of 100 points, Malta ranks 13th in the EU on the Gender Equality Index. Its score is 3.0 points below the EU's score. Malta has been gradually rising up the ranks over the past decade and is one of the three countries to have registered the most progress since 2010, along with Luxembourg and Italy.

Progress in gender equality in Malta since 2010
Since 2010, Malta's score has increased by 10.6 points, raising its ranking by five places. Since 2018, Malta's score has increased by 1.6 points, mainly driven by improvements in the domain of power. Consequently, its ranking has improved by one place. In the category  labour market, Malta is now in 4th place with 76.8, with Sweden, Denmark, and the Netherlands just ahead.
sources: Eige, European Union, Statista.com
Famous International Women's Day quotes
"Women are the largest untapped reservoir of talent in the world." — Hillary Clinton
"A girl should be two things: Who and what she wants." — Coco Chanel
"Well-behaved women rarely make history." — Eleanor Roosevelt
"A woman is like a teabag — You have never known how strong she is until she gets in hot water" — Eleanor Roosevelt
"Girls should never be afraid to be smart." — Emma Watson
"If you obey all the rules, you miss all the fun." — Katherine Hepburn
"If you want something said, ask a man. If you want something done, ask a woman." —Margaret Thatcher
"A woman with a voice is by definition a strong woman. But the search to find that voice can be remarkably difficult." —Melinda Gates
"There is no limit to what we, as women, can accomplish." —Michelle Obama
"I alone cannot change the world, but I can cast a stone across the water to create many ripples" — Mother Teresa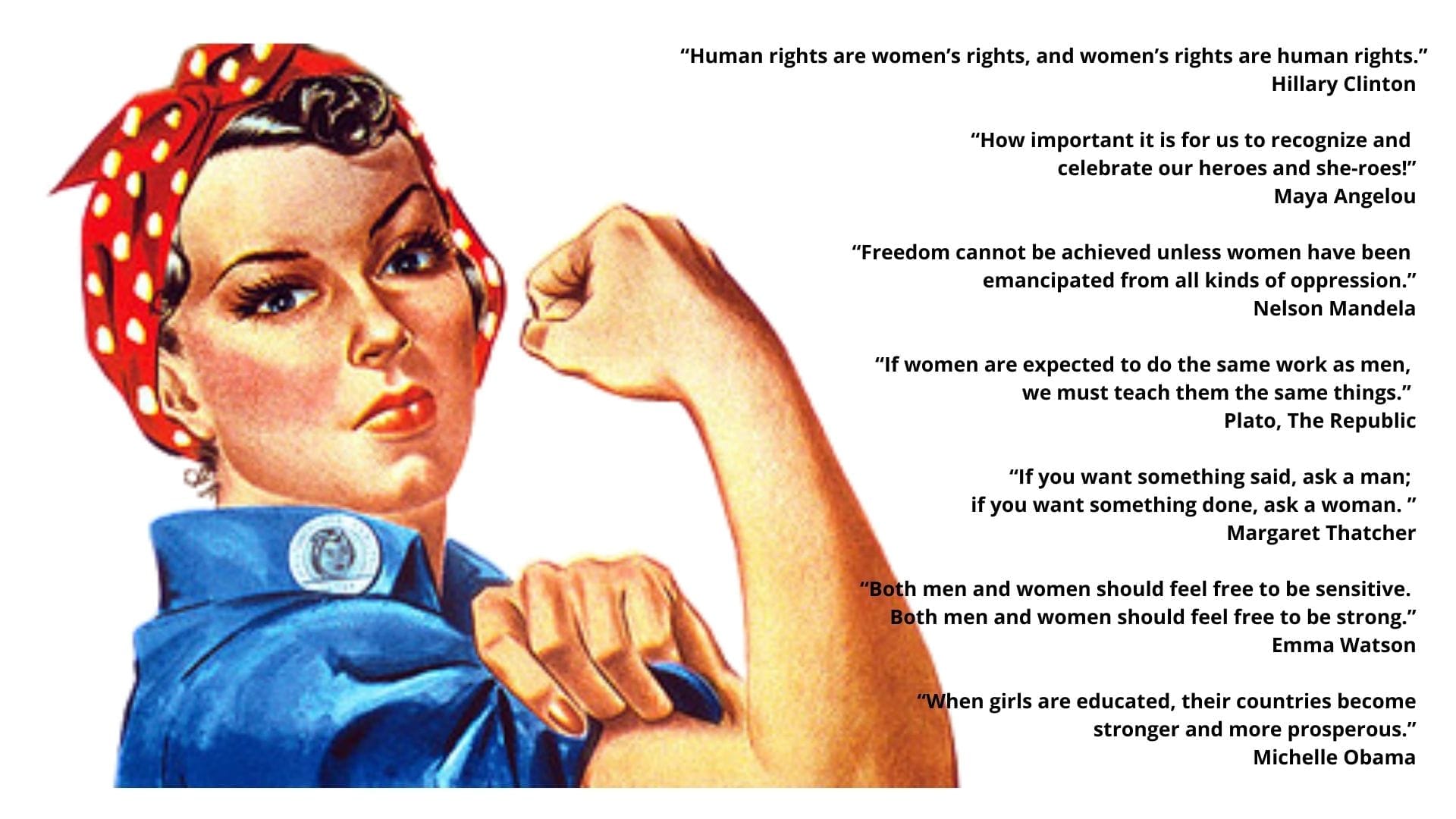 Which organizations in Malta officially support International Women's Day?
International Women's Day is not self-sanctioned by governments, charities, businesses, women's networks or media centres. The day "belongs" jointly to all participating groups worldwide. Thus, there are organizations in Malta that help shape International Women's Day. In addition to all the daily newspapers, we have located the following non-political organizations.
The European Parliament Liaison Office in Malta
European Commission Representation in Malta
National Council of Women of Malta
The National Council of Women of Malta is a non-governmental organization. NCW Malta is non-partisan, non-denominational and independent.JCI MaltaJCI Malta is a leading national network of young active citizens. For International Women's Day, JCI Malta invites inspirational speakers for meetings and lectures.
International Women's Day and the United Nations (UN)
International Women's Day is all about encouraging, empowering and admiring women. Women in Europe and the U.S. have succeeded against all odds and oppression in gaining many rights to equality. The United Nations designates a new annual theme for this every year on 8.3 International Women's Day."The world has made unprecedented advances, but no country has achieved gender equality." writes the United Nations.
Who is UN Women?
UN Women is a unit of the United Nations (UN). UN Women is committed to
gender equality
for women's rights
for ending violence against women
for the elimination of all forms of discrimination against women.
It also advocates for the abolition of discriminatory laws, economic disadvantage, forced marriage and sexual violence. According to its own data,
discriminatory laws were abolished in 17 countries in 2018 at the instigation of UN Women.
When was UN Women founded?
UN Women was founded in 2011
. UN Women associations and organizations have been established in many countries around the world. They advocate for women's rights at the national level. In
Malta
, we could
not locate any UN Women organization
(as of 8/2021).
What events are the events in Malta on International Women's Day?
Every year at 5:30 p.m., the annual Women's Day protest march takes place on Republic Street in Valletta. Otherwise, there are one or two political events organized by the government and political parties. Few stores, hotels, museums, and restaurants take advantage of the attention of the International Women's Day. They give discounts or present a gift to the female visitors.
On Sunday, March 06, a sizeable march in the name of International Women's Day, starting out at Valletta's Triton Fountain at 11am. The march progress through the streets of the capital and past the Parliament. The march is set up and support by several Maltese NGOs and pressure groups.
On Friday, 4 March the European Parliament Liaison Office in Malta, in conjunction with the European Commission Representation in Malta, will also be organizing an event in relation to Women's Day. "Looking Forward – postpandemic reality for women," will be held on at the Phoenicia Hotel.
Our suggestions for the International Women's Day!
Since the International Women's Day is not a holiday in Malta, there are no special activities to announce. As a male writer, the first thing that comes to mind is: Taking a surprise holiday, bringing breakfast to bed and starting to take over the housework on International Women's Day.
In addition, order a fabulous bouquet of flowers from one of the reliable florists in Malta like il-Qronfla to your sweetheart, mother, sister, or grandma.
For the evening, this time we visited the north in search of a gourmet restaurant. For Valentine's Day, we had chosen restaurants and hotels balanced throughout the island. We discovered two wonderful restaurants in Malta.
The Sixth Leaf in Naxxar
The Sixth Leaf is a vegetarian and vegan restaurant. Treat your guests to an enchanting Six Course Gourmet Dinner.
Gejja il banda (The Band is coming)
Deviled prunes
Bandalori ( Festa Banners)
Pistachio e Pepe ravioli – Vheese- pepper- pistachio
L-Istatwa (The Statue)
Celeriac Cappuccino – radish-nutmeg-soya milk
Il Purcisjoni (The Procession)
Stuffed Okra – Aubergine- tomato sauce- couscous
Kaxxa Infernali (Granfinale of Fireworks)
"Bone marrow" parsnip – Smashed Potatoes- Roast Bell Peppers- Red Cabbage Bouillon
Ix- Xalata (The Day After the Feast Celebrations)
Prickly pear and Papaya Tart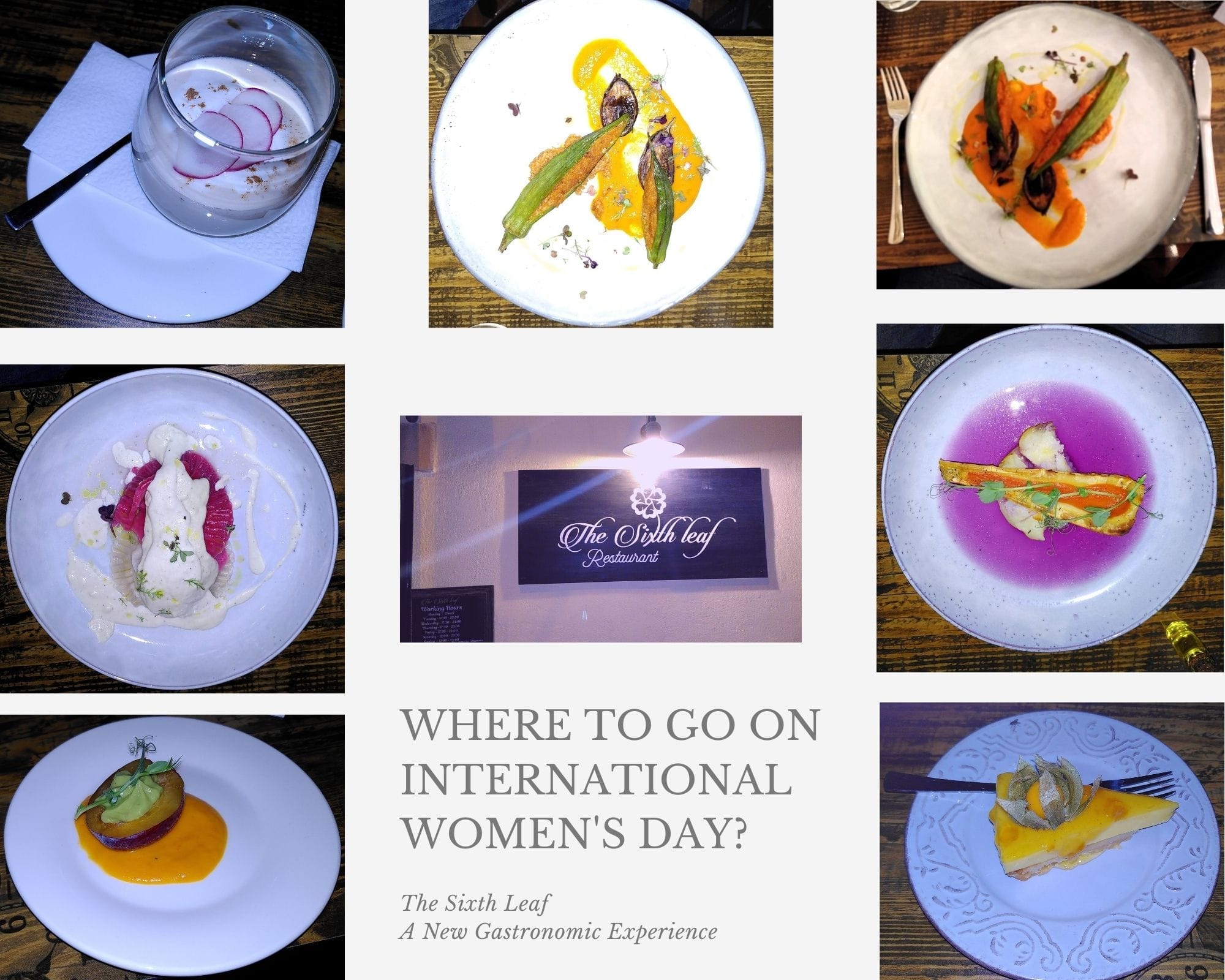 Contact The Sixth Leaf
NXR6700 Naxxar, Telgha tà Alla u Ommu
Phone: +356 7703 8399
Opening hours: 12:00 – 11:00 p.m.x
The Diar Il-Bniet in Dingli
In Diar Il-Bniet all the dishes are homemade with products and ingredients from their own cultivation. All dishes are prepared only from fresh ingredients. For this purpose, the family business cultivates over 600 hectares of land. Traditional cultivation, farming and harvesting techniques have been passed down from generation to generation.
They handpick each ingredient and then employ their traditional methods to create the flavoursome home cooked meals. Maltese cuisine includes many recipes that have been passed down through generations to the children.
Reserve a table for your loved ones for International Women's Day and Women's Equality Day. The Diar Il-Bniet is an absolute insider tip and therefore fully booked on most opening days. You will certainly not regret the visit to Dingli.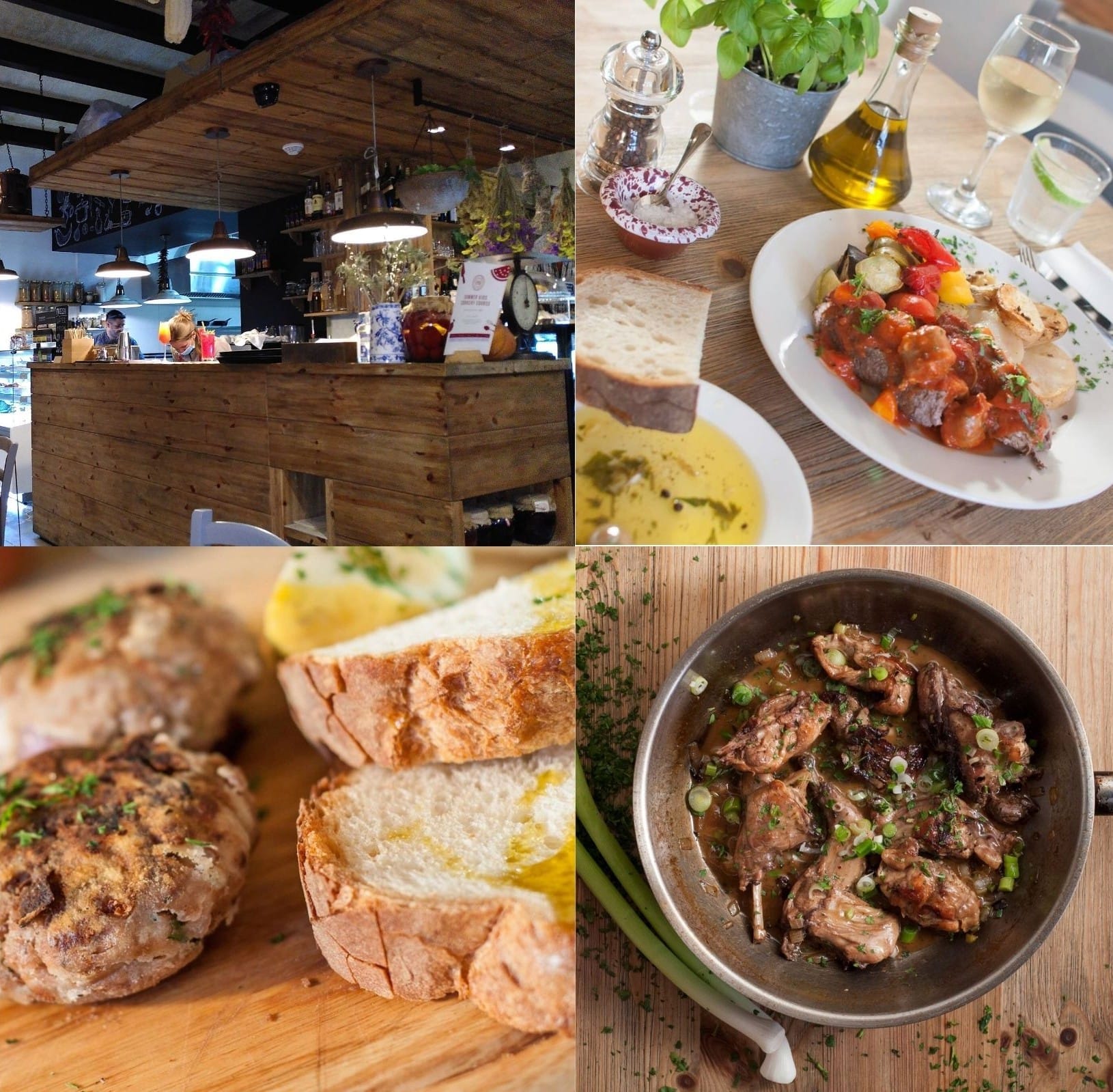 Contact Diar Il-Bniet in Dingli
121, Triq il- Kbira Ħad-Dingli, Malta
Phone: +356 2762 0727
Email: [email protected]
FAQ – Do you still have questions? We have the perfect answers!